11月9日、10日、フィンランド支部の代表キモさんが訪問されました。
彼は海外のメンバーでは古い方で日本へ稽古に来るのは15~16回目ですし、毎年ヨーロッパセミナーには参加されています。
私が稽古に参加したのは二日目だったのでもう二刀の稽古まで進んでいました。
Representative of Finland branch Kommo Pohjosaho visited Hombu at 9th and 10th November.
He is an old member of Niten and 15~16 times to came Japan, and He joined in the European seminer every year.
It was the second day that I joined the keiko, so they have already training of Nito seiho.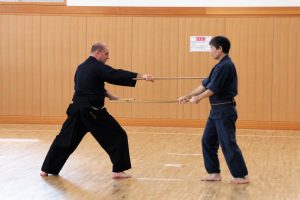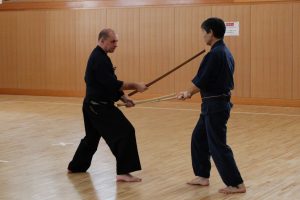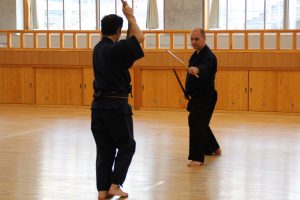 最後に棒術の稽古。海外セミナーでは時間が沢山ありませんので、なかなか棒術をやる機会が無い為訪問稽古でゆっくり伝えられるのは良いですね。
At the end We practicing Bo jutsu. There is no opportunity learn a Bo jutsu because not a lot of time at the International seminer. So I think a good time to learning Bo jutsu in visit training.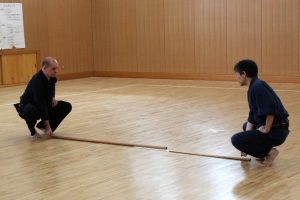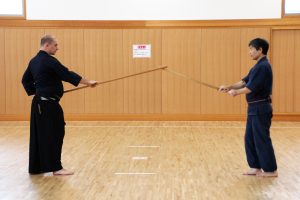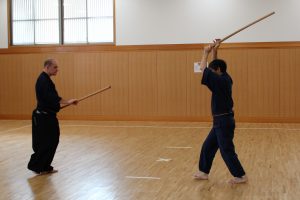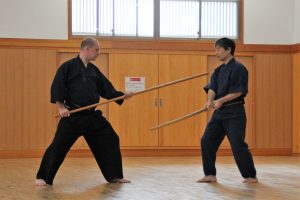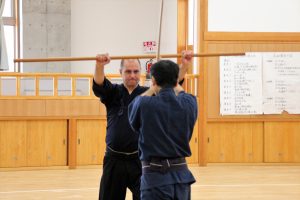 良い木刀を見つけるのが困難になってしまった日本ですが、キモさんが持っている木刀が凄く良いとの噂を聞いていた為、今度あったら見せてもらってどこで購入したか聞こうと思っていたのですが、確認したところ私の木刀と全く同じものでした。形も彫りも素材も。同じ職人さんが作ったものだと分かりました。
木刀にも限界がありますから同じものを購入したかったのですが、残念ながら作者が高齢の為、制作が困難になってしまったそうです。今後は自分で作るしかないようですね。
Finding a good Bokuto is difficult in Japan, I heard rumors that Kimmo have good Bokuto so I wanted to ask him How did he got!!  I looked very closely, exactly same bokuto with my bokuto. Also a Shape,carving, material. I knew that the made by same person.There is a life limit in the Bokuto, So I wanted the same Bokuto. Unfortunatery the craftsman is aged so he can't be made more…I make my Bokuto my own from now.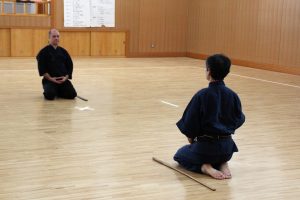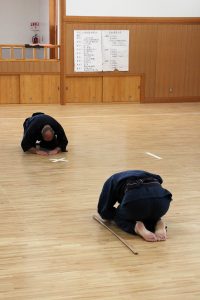 帰りにドライブしながら昔の二天の事や彼が学んでおられる居合の事をお聞きしました。毎回感じるのですが日本人より詳しくて情熱的なんです、見習わなくてはいけませんね。
翌日は市民センターの文化祭で演武にも参加してくれたそうです。
ありがとうキモさん!また一緒に稽古しましょうね。
While we driving on the way back , We talked about niten thing of the past and Iai he learning. Everytime I feel that They are all more about Japan than Japanese. I'll learn from them.
The next day, He joined Embu at the Civic center cultural festival.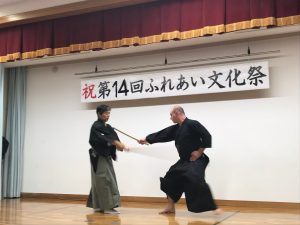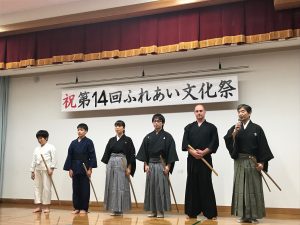 Thank you Kimmo! Let's keiko together again.
前田 典子 Noriko Maeda