9月22日、23日の二日間、チリのサンティアゴ武道館より訪問稽古がありました。
初日は戸畑スポーツセンターの武道場で稽古を致しました。
There was visit training from Chile-Santiago Budokan of two days  on September 22 and the 23rd. We practiced on the first day at Budojo in Tobata sports center.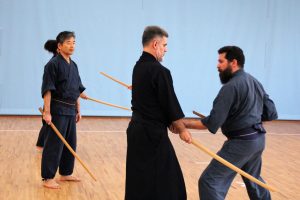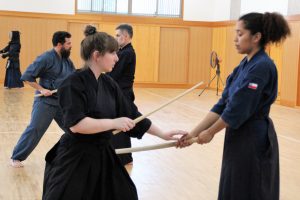 二日目は巌流島へ渡り稽古致しました。天気も良く多くの観光客のお客様がいらっしゃいましたので様子を見ながら像の前で記念撮影させて頂きました。
We went to Ganryujima and practiced on the 2nd day. It was a fine day and there was a many customer of tourists came Ganryujima, so I took a ceremonial picture while looking at the situation.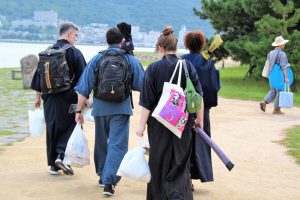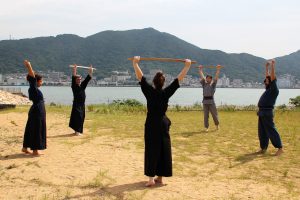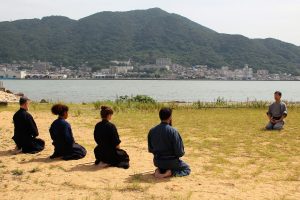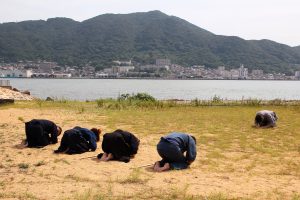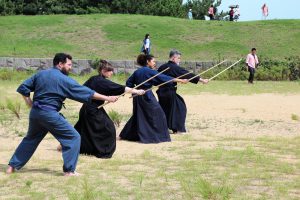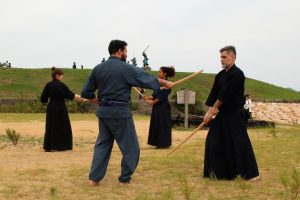 まずはサンティアゴ武道館代表のニコラス、彼と日本で稽古するのは三度目です。
First, He is Nicolas and representative of Santiago Bodokan. It's the third time to practice in Japan with Nicolas.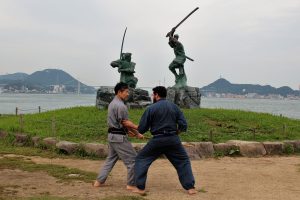 続いてマカレナ、彼女は去年も日本へ来ていますので二度目。
Next Macarena, she came to Japan last year, so the second time.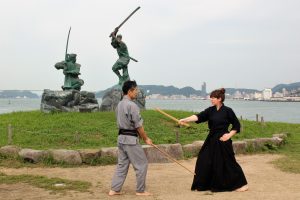 キドラは剣道の世界大会へ出場した後、小倉で初の稽古です。
Kidora is after coming to the World Kendo Championships she came to first training in Kokura .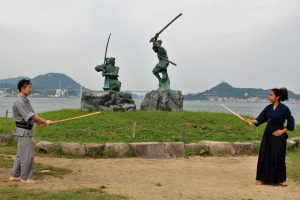 エドアルドは今年二天一流を始めたそうです。
Edoardo has started Nitenichi-ryu this year.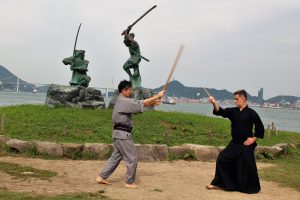 そして皆で記念撮影。同行していた関門時間旅行の青木さんに撮影して頂きました。
And we take a ceremonial picture by all.  Aoki san of Kanmon time travel  was took a picture of us.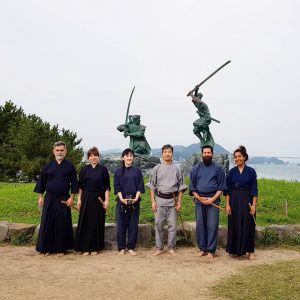 彼らは一刀勢法はすでに学んでいたので、今回は小太刀勢法を学びました。
最後に二刀の扱い方を学び島を後にしました。
They learned Itto seihou already, so they learned a Kodachi seihou way this time.
And learned how to handle it two swords in the end, then we returned from the island.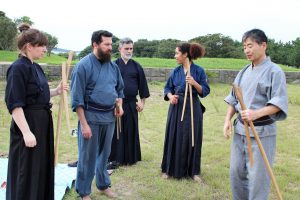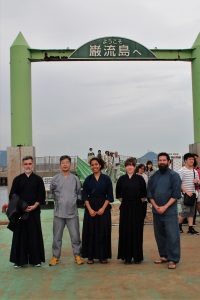 帰りに小倉碑文をお参りし武蔵先生へご挨拶。
展望台から北九州の景色を楽しみました。
We  visit Kokura Hibun and greet Musashi sensei on the way back.
And We enjoyed the view of Kitakyusyu from The observatory.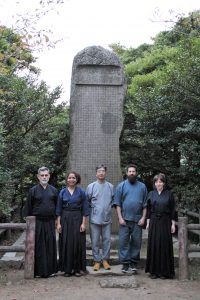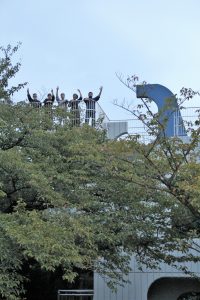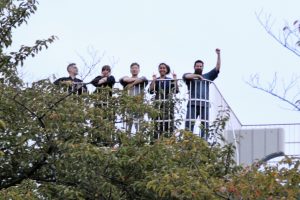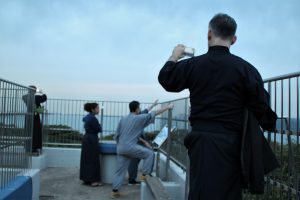 次は10月のチリワークショップで稽古ですね!
また日本で一緒に稽古出来る日を楽しみにしています。
The next is a practice at the Chilean workshop in October!!
I'm looking forward to the day to practiced together in Japan again.
Noriko Maeda