今年の8月は二組の訪問稽古がありました。
8月6日から11日、クロアチアのザグレブで稽古をなさっておりますVlatko Cerepinko さんと
8月15日から21日、イタリアのカッロージオで稽古をなさっておりますAlessio Repetto さんです。
There was two of visit training in August of this year.
Vlatko Cerepinko practicing in Zagreb in Croatia on the 6th to 11th August.
Alessio Repetto practicing in Carrosio in Italy on the 15th to 21th August.
まずは今回日本は初めてのVlatkoのご紹介です。
彼は来日中すべての日程を稽古時間だけで使いたいとの希望がありましたので、空港へお迎えに行ったその足で
太宰府天満宮へ少しだけ観光に行き、仲見世通りでお土産などを購入しました。
This is his  first visit to Japan this time of Vlatko, introducing.
He had the request for which he'd like to use all schedules only in practice time during visit to Japan, so when he arrives at the airport and immediately We went to sightseeing only a little to Dazaifu-tenmangu and bought a gift by Nakamise street.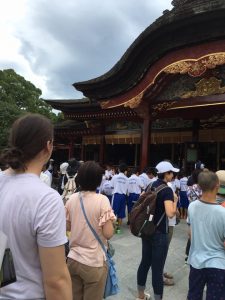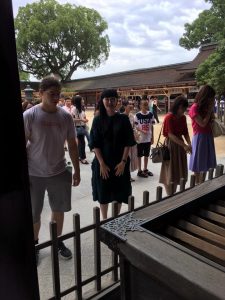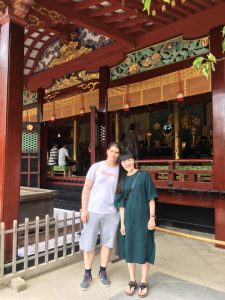 早速稽古開始です。朝も昼も稽古し、夜は本部道場の稽古に参加されました。
We'll be practice starting right away. He practice on a morning and noon, night was a join Hombu dojo keiko .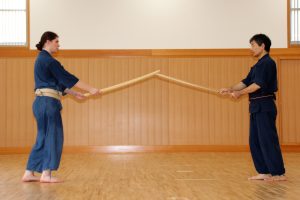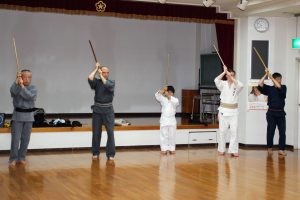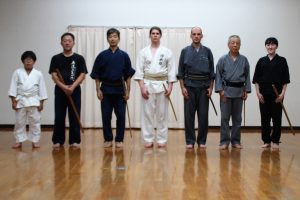 台風の影響などもあり、天候の良い日に巌流島へ渡り稽古を行うことができました。時々さす強い日差しでぐんぐん上がる気温、自然の風に救われました。
It was  affected by a typhoon this week, and possible to do keiko to Ganryujima on a nice day. The temperature rises by the strong sunlight. But a natural wind help us.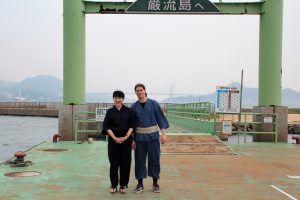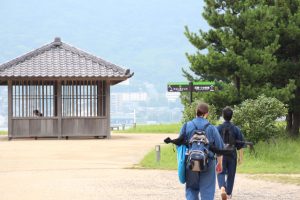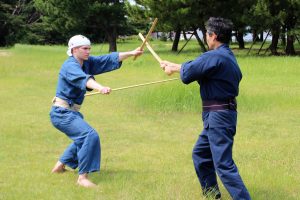 毎日毎日、無風の道場で真剣に稽古に取り組む姿には感心しました。
I admired that He work on the keiko seriously at a windless dojo every day every day.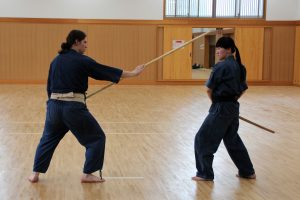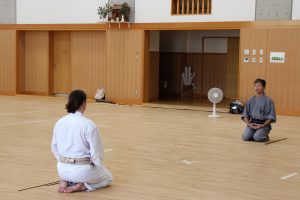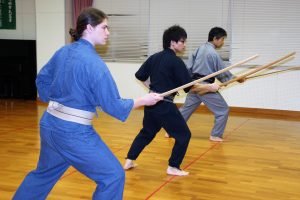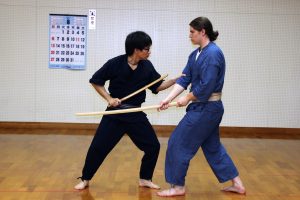 最終日は小倉碑文へお参りし、小倉城へも行き小倉の歴史や文化に触れることが出来ました。
最後までご自分のお弟子さんたちの為に買い物をしたり、とっても心優しいVlatkoでした。
The last day We went to Kokura hibun, and also went to Kokura castle and could touch Kokura's history and culture.
He shopped for his pupils until the end, and he was very kind Vlatko.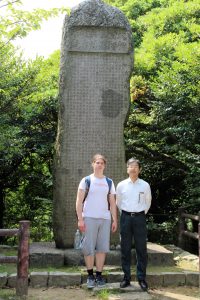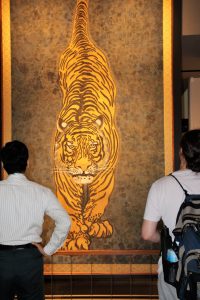 続いてAlessioも初めての日本です。
初日の稽古から巌流島へ渡りました。
暑く焼けた石だらけの道を裸足で歩く野生児です。
Next Alessio is also first time in Japan.
In the first day, We whent and keiko to Ganryujima.
He was the wild boy who walks along the ways full of hot and  stones barefoot.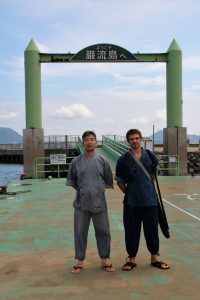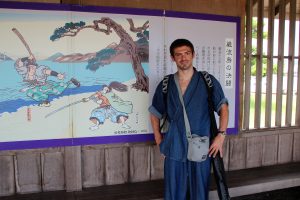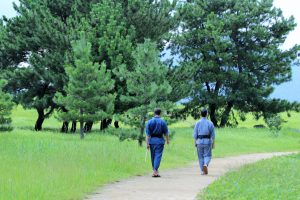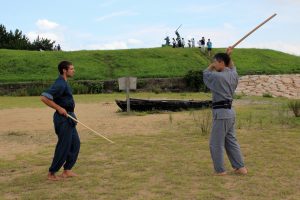 本部道場での稽古にも参加されました。
He joined Hombu dojo keiko.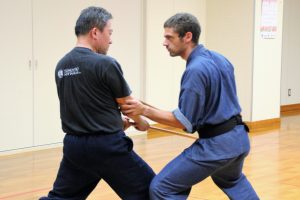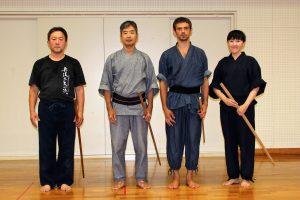 霊巖洞へ向かう途中、大牟田市にあります四郎國光さんへ立ち寄り刀を二振り見せて頂きました。
偶然刀匠の安光さんにお会いすることが叶い、刀の作り方や鑑賞の仕方など詳しくお話しして下さいました。
While going to the Reigando, We went to Shiro Kunimitsu  in Omuta-city, and he showed us two  sword he made.
We could meet Mr. Yasumitsu of a tousyou( sword maker) , and he spoke about the manner of the way of making a sword and the enjoyment conversantly.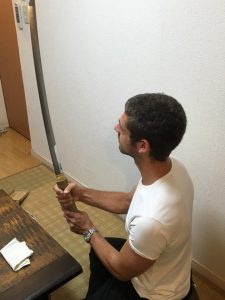 熊本の金峰山にあります黒岩展望所です。この日は遠くの有明海や島原の雲仙普賢岳まで良く見えました。
Kuroiwa view place in Kimp0u-mountain in Kumamoto. We were lucky that could see Ariake-kai and Unzen Fugentake  this day.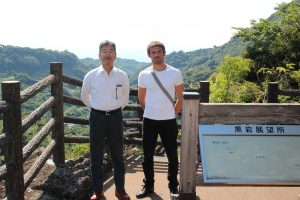 8月に行ったのは初めてでした。高温多湿の日本らしい夏で緑や苔がとても美しく映えています。
We went to Reigandou in August was the first time. Green and moss are very beautiful  in summer Japan of hot high humidity.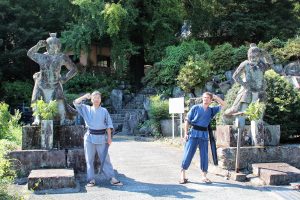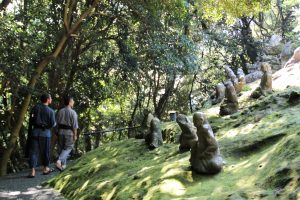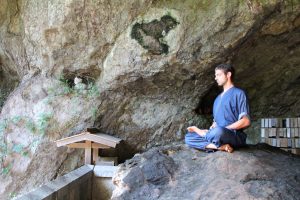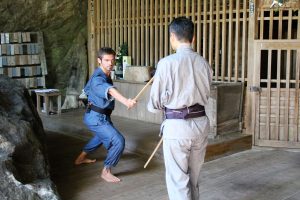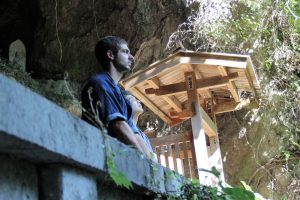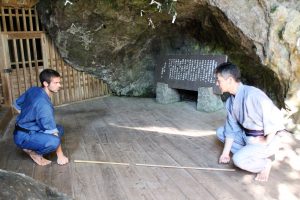 この写真でAlessioが握っている木刀ですが、彼が二天一流の稽古を始めた当初から使っていた木刀でボロボロになってしまいました。今回この霊巖洞で木刀の引退式を行いました。一生懸命稽古に励んで来られた事が良くわかります。
木刀が嬉しそうに光っていました。道具を大切に扱う事、想う事、とても大切なことです。
Alessio is a grasped bokutou with this picture, when he started niten ichiryu, it was used from the first time. But it was became ragged. The retirement  of the bokutou  at this Reigandou this time. When I seen this bokutou, I can understand he did keiko a lot.
A bokutou was looks wonderful and was shining. It's a very important thing to use  a tool importantly, and to think importantly.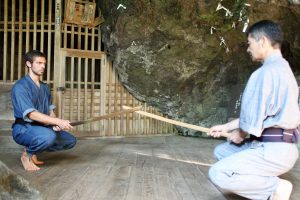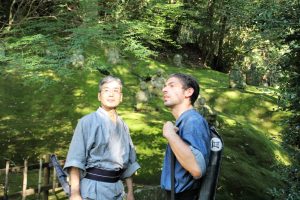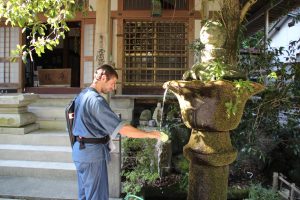 実はこの翌日、厳島神社での奉納演武へAlessioも参加する予定です。
初めての紋付き袴を着て、足袋を履き演武するため予行練習を行いました。
さて本番は上手くいったのでしょうか?
次回厳島神社の奉納演武について書こうと思います。
Well, Alessio is planning  to embu at Itsukushima shrine on this next day.
A first time of put on the  Montsuki kimono with the hakama  and to put on tabi and perform the embu.
Now, did you  embu well?
I'll write about embu in Itsukushima shrine next time.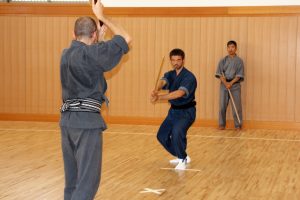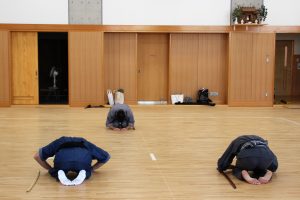 前田 典子 Noriko Maeda