4月3日より4月9日の7日間、イギリスの辛抱心道場よりEduardo Spadaccino Patrizioさんが訪問稽古に来られました。
For 7days from April 3rd to 9th, Eduardo Spadaccino Patrizio came for a visit keiko from the UK.
到着初日は通常稽古へ参加されました。
数日前より稽古に来られていた平常心道場の皆さんとはイギリス国内でも合同稽古をされているので皆さんとは顔なじみでした。
On the day when he arrived, He joined in a normal keiko at night. He practiced join in UK with the member of heijoshin Dojo that visited Japan for a few days befor.So everybody know each other.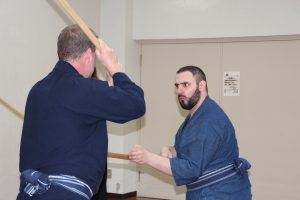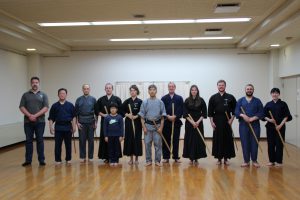 この日も加治屋宗家に実相円満の木刀を見せて頂き、Eduardoさんもご満悦の様子。
Kajiya Soke show us a Jissou Enmanno bokuto this day. He looks very glad.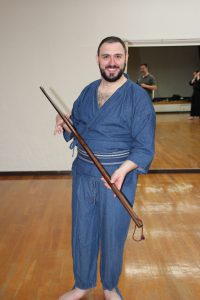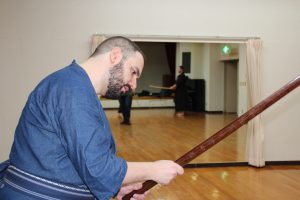 稽古のない日には小倉城や八坂神社へお参りに行き、丁度満開だった桜の下でお花見を楽しむことも出来ました。
We went to Kokura castle and prayed Yasaka shrine on the day without the keiko and Ohanami under the cherry blossoms in full bloom!!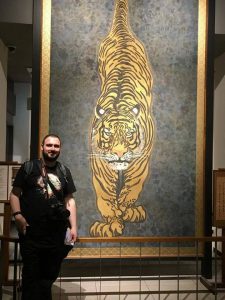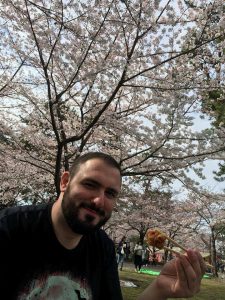 今月から木曜日の稽古は道場が変わりますので、初めての富野道場稽古となりました。
The keiko of Thursday changed a place from this month, so We did the first Tomino Dojo  keiko .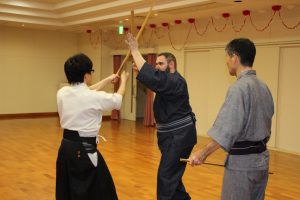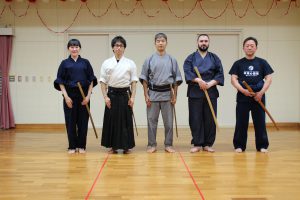 大分県の宇佐神宮へお参りし、今井十代宗家のお墓へもお参りすることが出来ました。
After having prayed at the Usajingu of Oita, We prayed at the grave of the Imai 10dai Soke.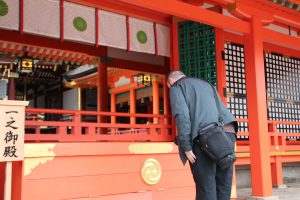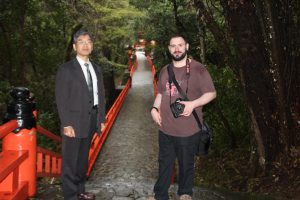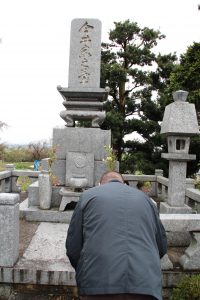 翌日は朝早くに出発し熊本の霊巖洞へ行き稽古を致しました。桜や椿も咲きとても美しかったです。
We left early in the morning the next day, We went to Reigandou of Kumamoto and took a keiko. Sakura and Tsubaki were very beautiful.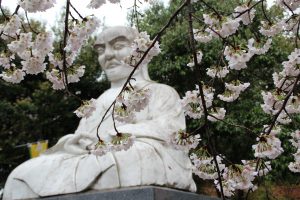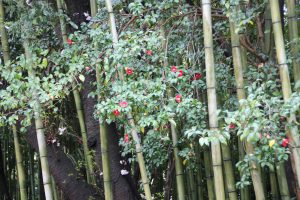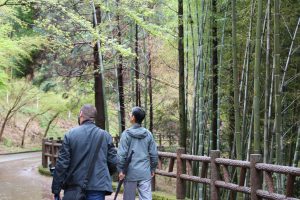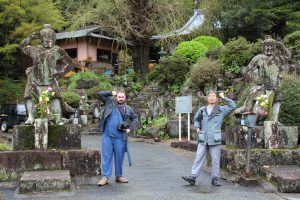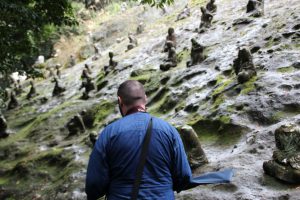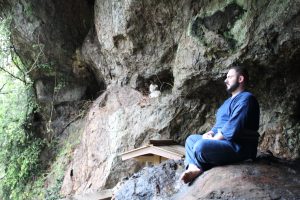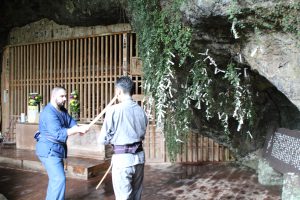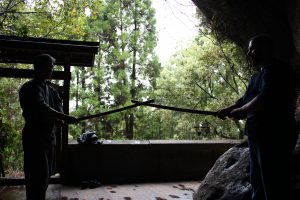 最終日には巌流島へ渡り稽古、この日は先日ニュースで私共を見て、行って見たくなったと仰る観光客の方にも出会いましたし、渡し場の方たちも見たよと声をかけてくださいました。
We took a keiko in Ganryujima on the last day. We met the tourist who said that He looked at us in News on this day and come to Ganryujima!! And said to us the staff of ship that I saw news!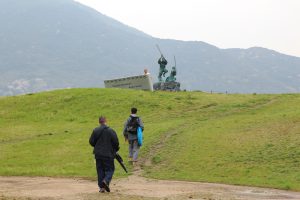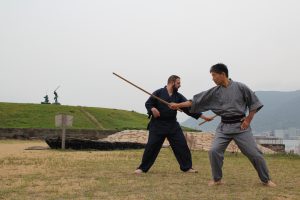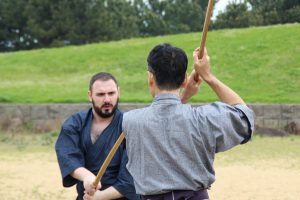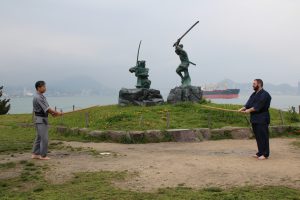 今回、イギリスのメンバー合計15名と話をするとき、たびたび登場する話題、それは我が町北九州が世界に誇るTOTOのウォシュレット!
まるでトイレにロボットがいるようだ!と使用してみて感動していました。せっかくなのでTOTOミュージアムへ見学に行きましたが私たちも楽しみました。
When I talk with 15 British members this time, every body talk about TOTO Washlet which our town Kitakyusyu boasts of the World!! A robot seemed to be in toilet!! They impressed when they used Washlet. So We went to TOTO museum for a visit, but We were very fun, too.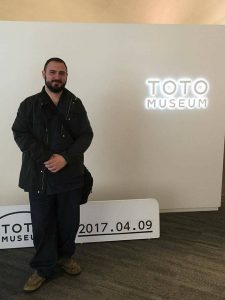 本当に日本が大好きで、言葉や文化、武道も一生懸命学んでおられるEduardoさん。
次回はご家族の皆様と来日されるそうなので、またお会いできる日を楽しみにしています。
Eduardo really loves Japan, and he learns Japanese and culture, the budo hard. He seem to visit Japan with a family next time, I wait to enjoy a day to be able to see you again!
Noriko Maeda