あっという間に一年が過ぎてゆきました。今年も各支部の活動報告を紹介したいと思います。
●国名(代表者又は投稿者) ●country(Representative or Contributor)
●●●Australia (Chris Parker)
Melbourne, Australia.
The past year has been one of challenges for the Melbourne group, but I am pleased to report that the members have all risen to meet them! From medical and physical issues affecting practitioners, to scheduling and work issues, through to almost having to find a new location, the group has managed to continue it's practice.
Striving to continue to study Hyoho Niten Ichi Ryu as directed by Kajiya-soke, we have used 2019 to work on the fundamentals of our keiko, maintaining regular practice. At the end of the year, we have also been joined by a new potential member, and will aim to further the school in 2020. We are also looking forward greatly to travelling back to Japan next year to see our dojo-mates from around the world, and further our study with Soke and the Hombu dojo.
I would like to express my gratitude to Noriko Maeda-san, Scott Halls, Batman O'Brien, Eduardo Patrizio, Roland Gericke, and all other members of the ryu who have greatly assisted in their support, guidance, and advice over the year, and, of course, to Kajiya-soke for sharing this important treasure with us!
I look forward greatly to 2020, and strengthening Hyoho Niten Ichi Ryu in Australia.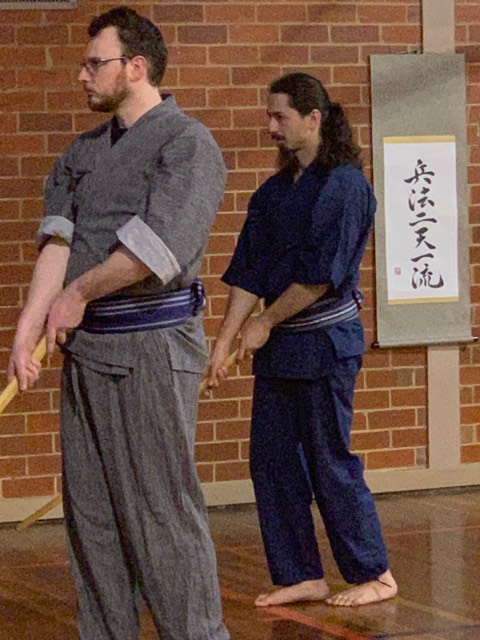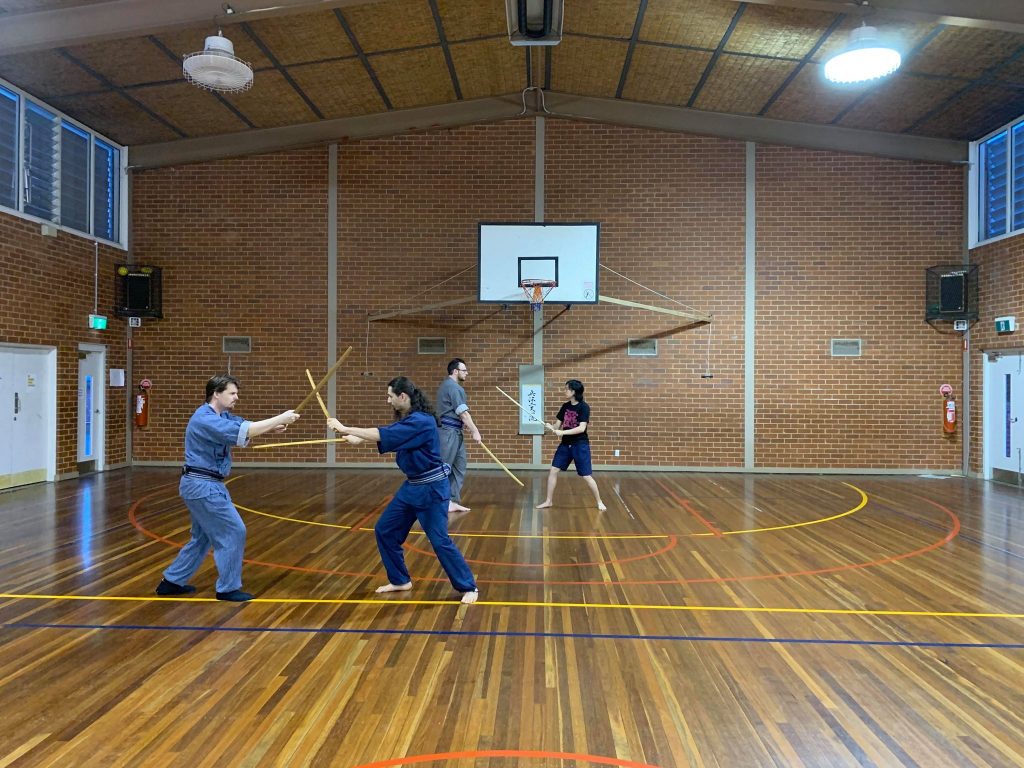 ●●●Croatia (Nikola Zrinjski,Vlatco Čerepinko)
Varazdin Dojo(Nikola Zrinski)
The Varazdin dojo has been very stagnant last year and a half. No new member came in but a lot of people asked about it but never show up to try. Through the year we continued to do 2 keikos a week and to visit Slovenia for joint keiko.
Zagreb Dojo(Vlatco Čerepinko)
We continue to practice in our regular schedule and try to improve our understanding of the art. This year our group has grown to over 30 students. We did quite a lot of enbu, and are happy to have had so many opportunities to present our school.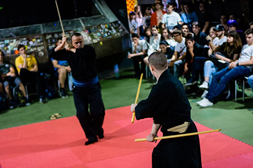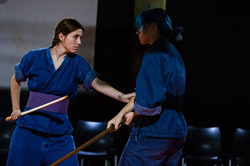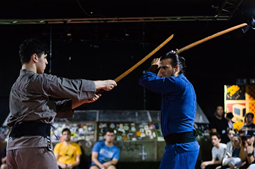 ●●●Czech republic (Petr Novotny)
We have six people in dojo in Brno + one in Mladá Boleslav. We practise every monday ( two hours) . Our dojo had one public exhibition this year. (25.5.and 26.5. on Anime fest in Brno)
Kind Regards.
Petr
●●●Finland (Kimmo Pohjoisaho,Matias Kousmanen)
Hyōhō Niten Ichi ryu country report for the year 2019 in Finland
The training in Finland continued as eagerly and enthusiastically as before. We had our hatsugeiko in January, right after the new year had started, where we set up a good energy for the coming year. As in previous years, we train regularly on Fridays, the training often followed by an after-keiko in a local restaurant. Beer is usually involved. We have one regular joint, where the staff greets us when we arrive with our big sword bags. During the year we participated in two embus in Finland. In January there was an embu that gathers all the different koryū that are practices in Finland. This year the embu was organized in Jyväskylä, in central Finland. The atmosphere was very convivial among all the participants from different koryū, and everyone was showing their best spirit. We had some nice time with practitioners of other koryū after the embu. Another embu was held in May during an annual hanami festival in Helsinki. Unfortunately, the timing was a bit off and most of the flowers had already fallen down. Nevertheless, we represented Hyōhō Niten Ichi ryu with good spirit that left the audience in awe.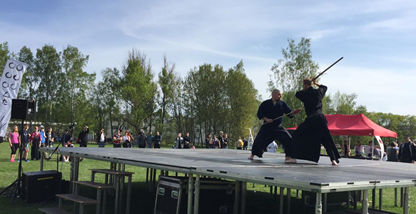 During the summer we continued our training outside. The unpredictable Finnish summer is sometimes challenging, but we try to keep up training even if it is raining a little.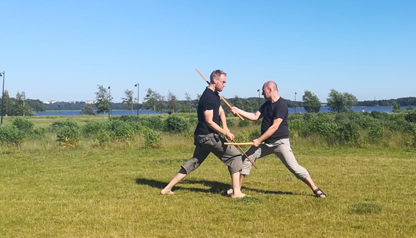 The highlight of the year was in July when we participated in the annual Hyōhō Niten Ichi ryū European seminar. This time it was held in Germany in the beautiful city of Fulda, close to the not-so-beautiful Frankfurt. The seminar included vigorous training under the guidance of Kajiya-sōke and Noriko-san. Between the trainings we enjoyed the excellent food and beer of the German people. So many schnitzels were eaten during those days. For some us the local beer might have even been a bit too strong in the sayonara party. Nevertheless, everyone eventually made home safe and sound. Good things happen when you have Japanese, Finnish, Germans and other countries coming together.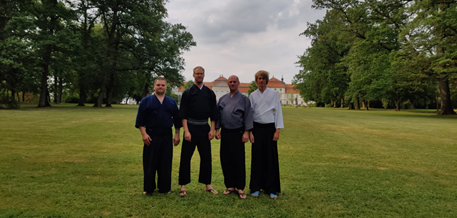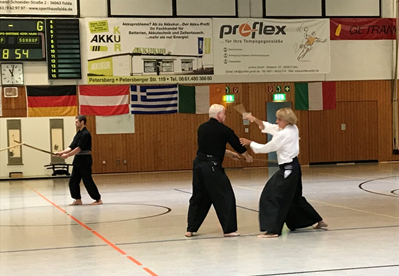 As the summer turned into fall, we moved back into training inside. At the end of the year, Kimmo was visiting Kitakyushu for some training with sōke. We hope to get some good bits of his learnings at the start of the new year. During the year we have had a relatively good amount of people in the training. At best, we might have had as many as nine people in the training at the same time. We hope to maintain a committed group of practitioners in the coming year as well.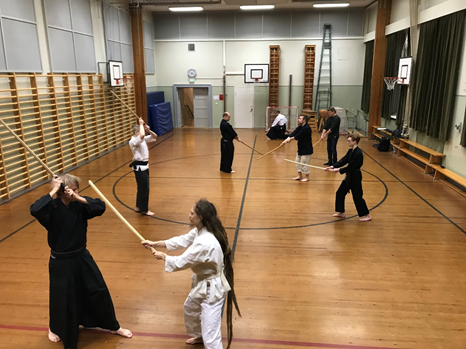 ●●●France (Nguen Thanh Thien)
We have been busy this year with keiko. Since September, we do a monthly workshop in Saint Brice, Paris area. We do no more weekly classes in Vincennes, Paris area, as it fits better people to come to workshops. Our group in the Pyrenese is working hard to learn seiho. Each summer we gather in the Pyrenese dojo for our national workshop. Last year we concentrated on Nito seiho for 9 days. Not everyone could attend the whole length but we all shared our knowledge. This year we concentrate on Kodachi seiho. We keep to the word: "Ikioï" "Forward energy".
●●●Germany (Roland Gericke)
German report of 2019 HNIR activities
After a moving year 2019 for the German Hyoho Niten Ichiryu shibu, I'm happy to give a short report of our activities.
The first half of the year was completely blocked for everything related to the European seminar, which we were allowed to host from 17th to 21st of July. We all were very enthusiastic about it, not at least because it was the first time we've had the opportunity for it in about 15 years of practice. From the first day, we've welcomed Kajiya Takanori sensei and Noriko Maeda sensei to the last day they've had to travel back to Japan, everything went very well, and we all did our best to give all of the participants a very good experience of keiko, activities and comfort in our hometown. I was very happy to welcome Karolina Luchesi from Czech Republic as our translator, and she did a very very good job.
Before and after the seminar itself, we've had the great opportunity to receive several private lessons from Kajiya Sensei, and what we've learned, led me to the decision to reject new students for one whole year, to be able to dive into the new ideas sensei gave to us.
Besides of the pure keiko, we've had a wonderful time together with Kajiya sensei and Noriko san. We did lots of sightseeing, had a lot of fun, plenty of good food and many wonderful conversations. It was really hard to let them go back to Japan!!!
During the year, our general keiko went on very well. I was very proud to announce our first official Keikojo in Osnabrück this year.
In November, we've had our last two days German Shibu Seminar with almost all of our students. The already known events for 2020 are the European Koryu Convention in Amsterdam, a planned visit of Robert Scicluna in his Dojo in Malta, a trip to Ireland to train together with Batman and John, and of course the international seminar in Japan.
Best wishes, a merry christmas and a happy new year for all of you,
Roland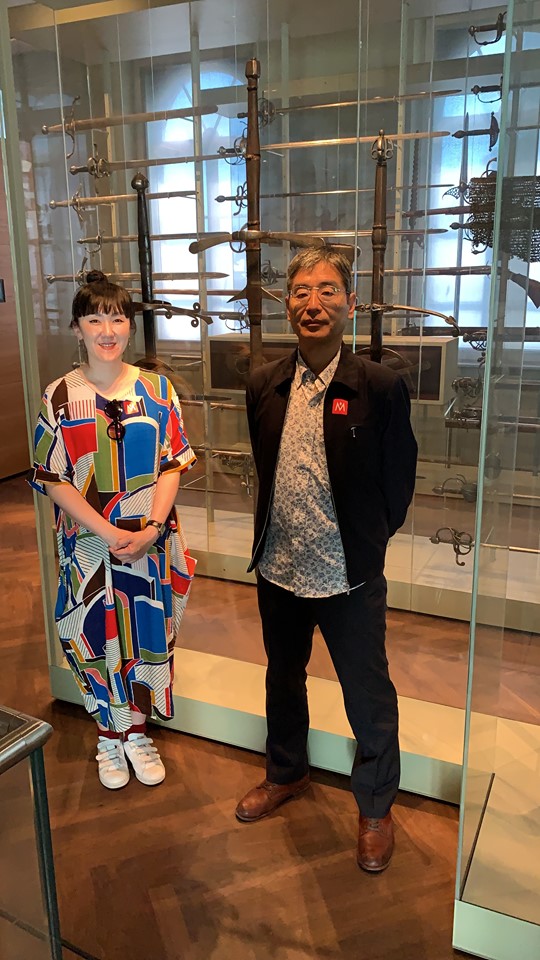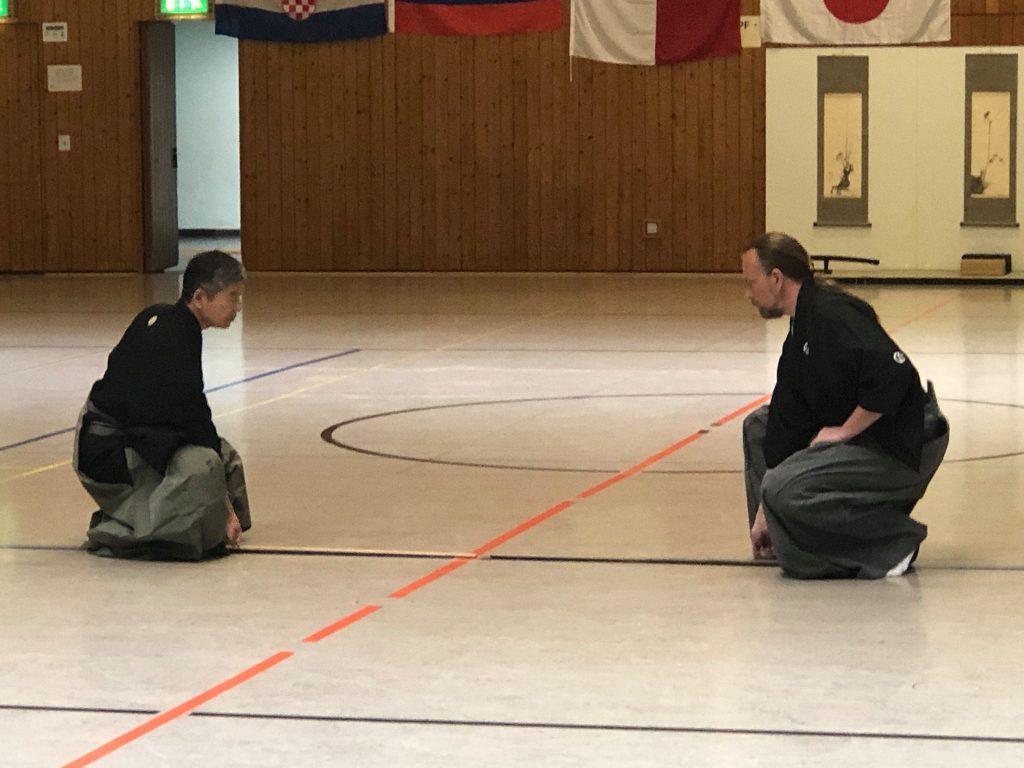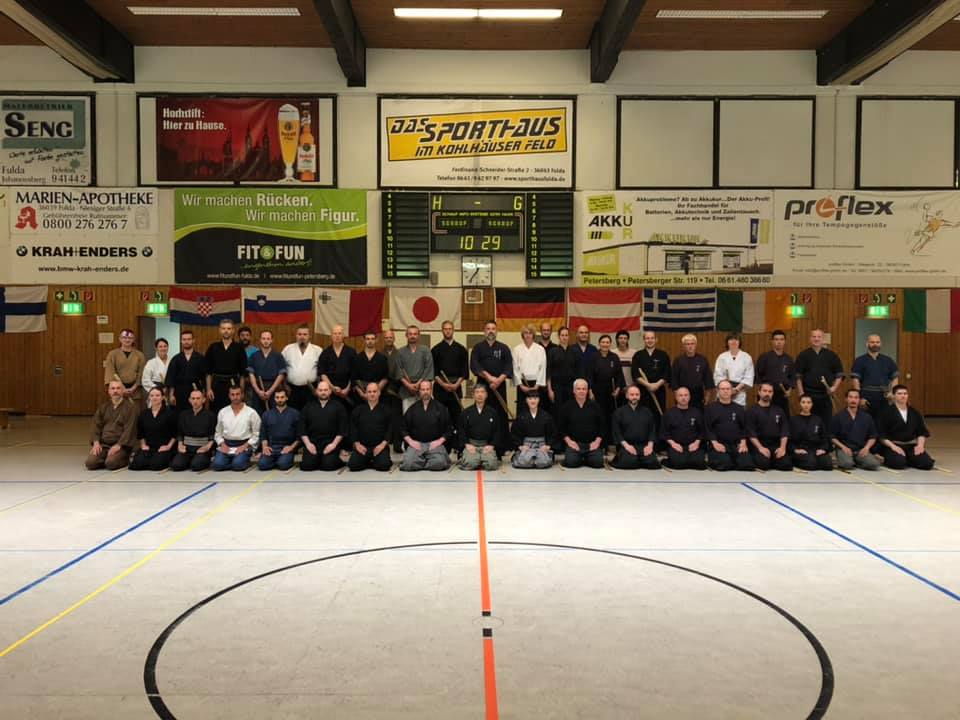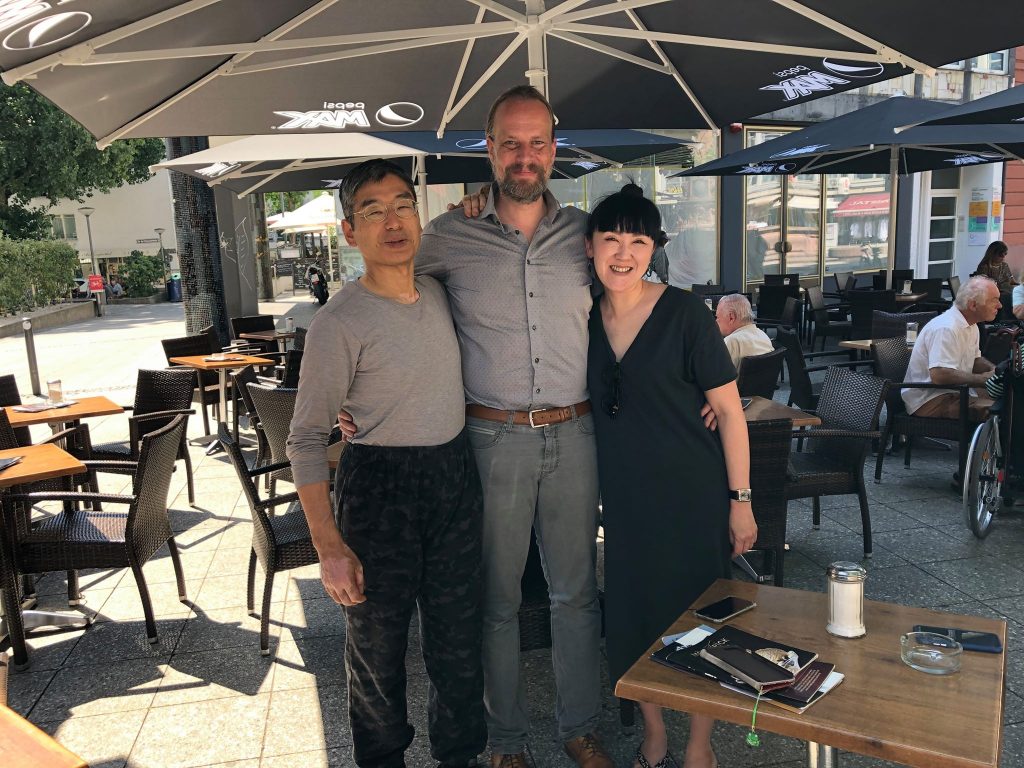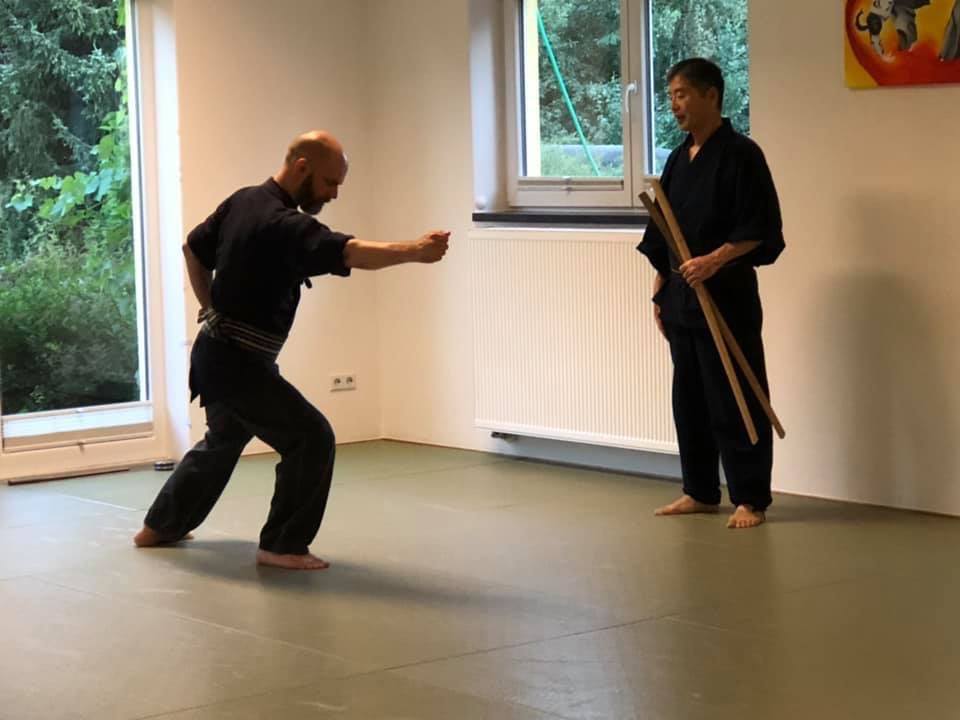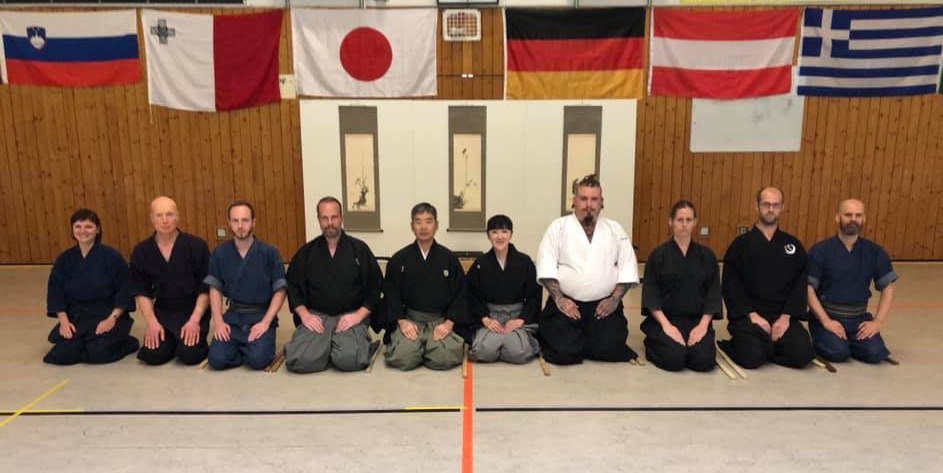 ●●●Ireland (Batman O'brien)
Hyoho Niten Ichi Ryu Ireland 2019.
2019 was a very good year for Hyoho Niten Ichi Ryu Ireland. While I was not back up to full speed, I was able to resume keiko and with this, 2 more students came to train in Hyoho Niten Ichi Ryu. While students come and ago, I am happy that we have established a core group of 5 regular students. We were able to hold regular weekly classes and even enjoyed some extended private keiko at my home during the warmer, dryer months (a rare thing in Ireland!).
The highlight of the year, of course, was getting to see our Hyoho Niten Ichi ryu family again at the European seminar led by Kajiya Soke. This year held a bonus of finally getting to meet Noriko Sensei and of seeing my friends Roland's home of Fulda. Fulda was a beautiful city to train in and Roland made us feel at home and welcome.
It was a great privilege to be able to introduce our new students to Soke at the seminar. I know for both of them it was a life-changing experience and we are deeply thankful to the kindness and consideration shown to all of us by Soke and Noriko-san. The generosity of Soke's teaching the depth of practice this year was truly special.
Since returning to Ireland, we have been working diligently on this practice. The subtly of Musashi Sensei's style, the quiet power and strategy make more and more sense each time I see Soke and I am truly thankful for this patience and generosity to share this with us.
And while it is always wonderful to train with our Hyoho Niten Ichi ryu family, it feels as though we are never truly apart. There has not been a day this year where I have not spoken or written to one of our family. I am lucky to consider several of our Niten brothers and sisters among my closest friends. The debate and discussion of technique, history and philosophy of our art each day strengthens those bonds, and hopefully in time will raise the level of my (and Ireland's) understanding of Hyoho Niten Ichi ryu. Since returning from the wonderful seminar in Fulda this year (a full report was written and will be published in Ireland's largest selling martial arts publication early next year) and with the new feeling of Hyoho Niten Ichi Ryu Kajiya Soke shared with me, we've been able to add another day, and another student to our weekly practice. Preparations are underway to make 2020 the best year yet for Ireland and we greatly look forward to seeing you all in Japan.
Yours,
Batman O'Brien Hyoho Niten Ichi Ichi Ryu Ireland.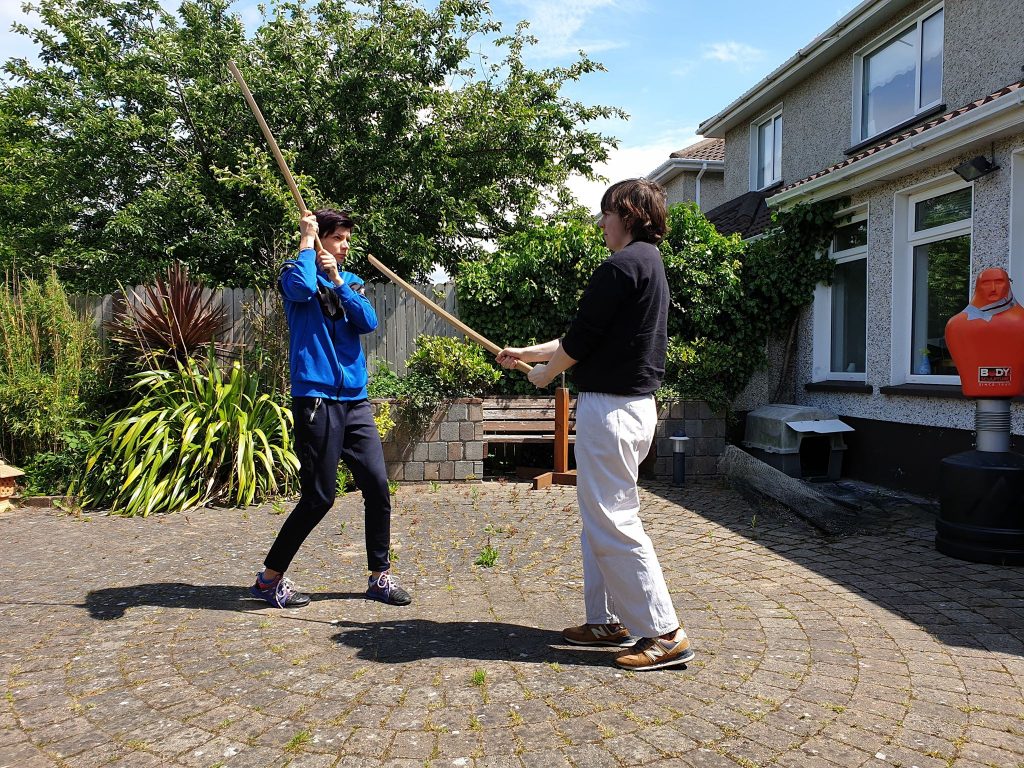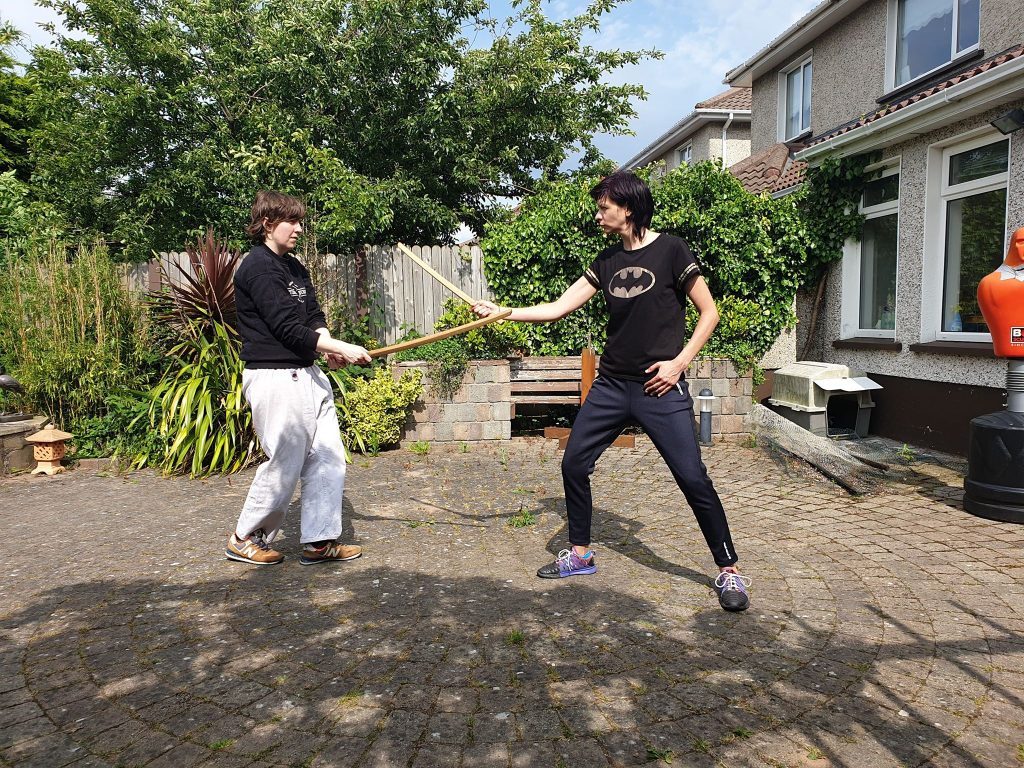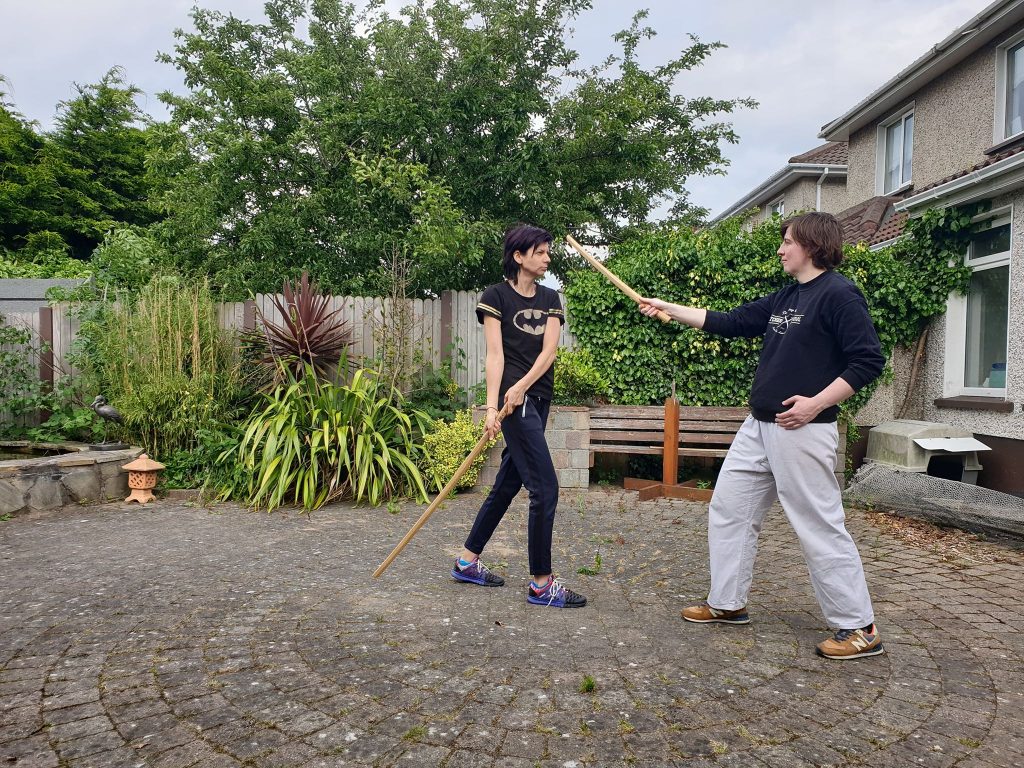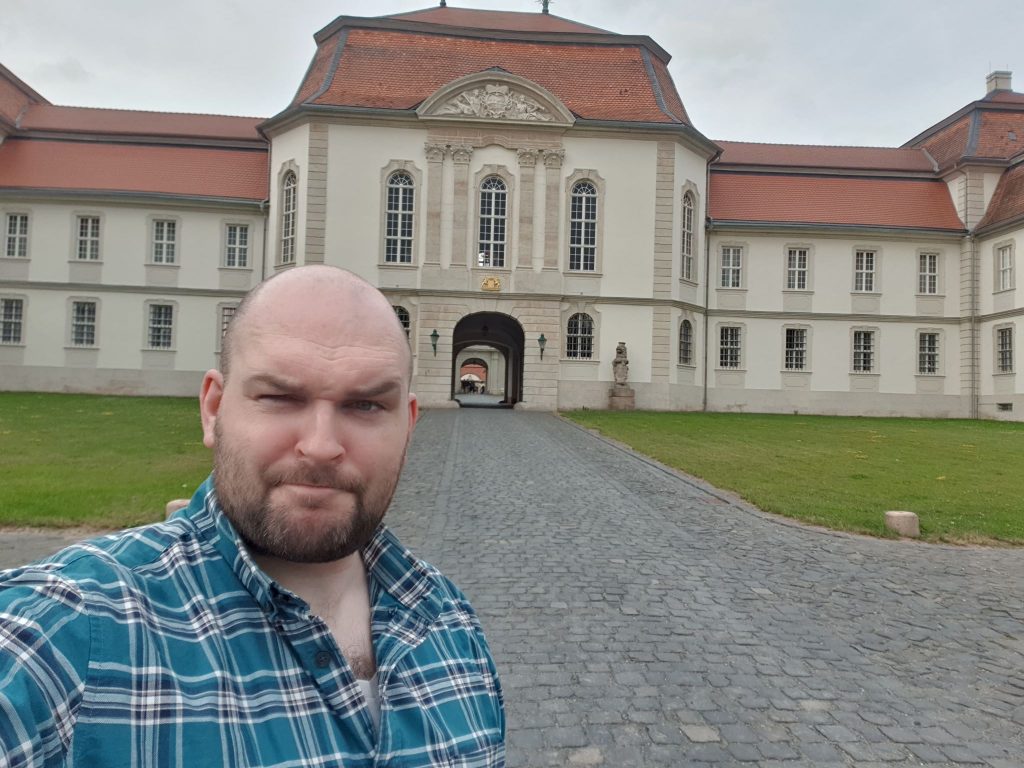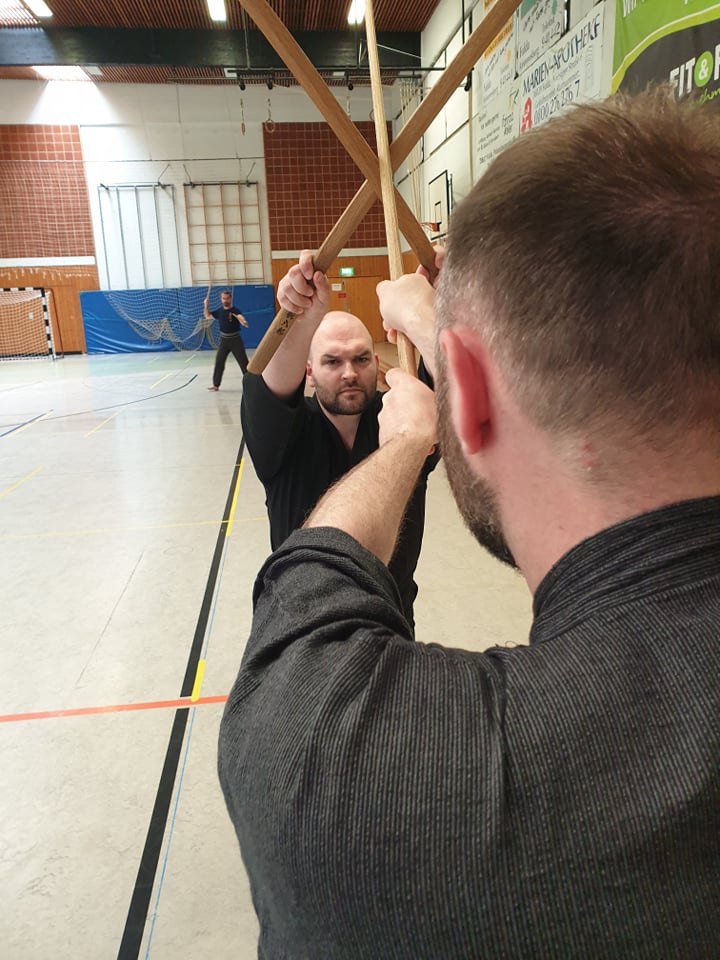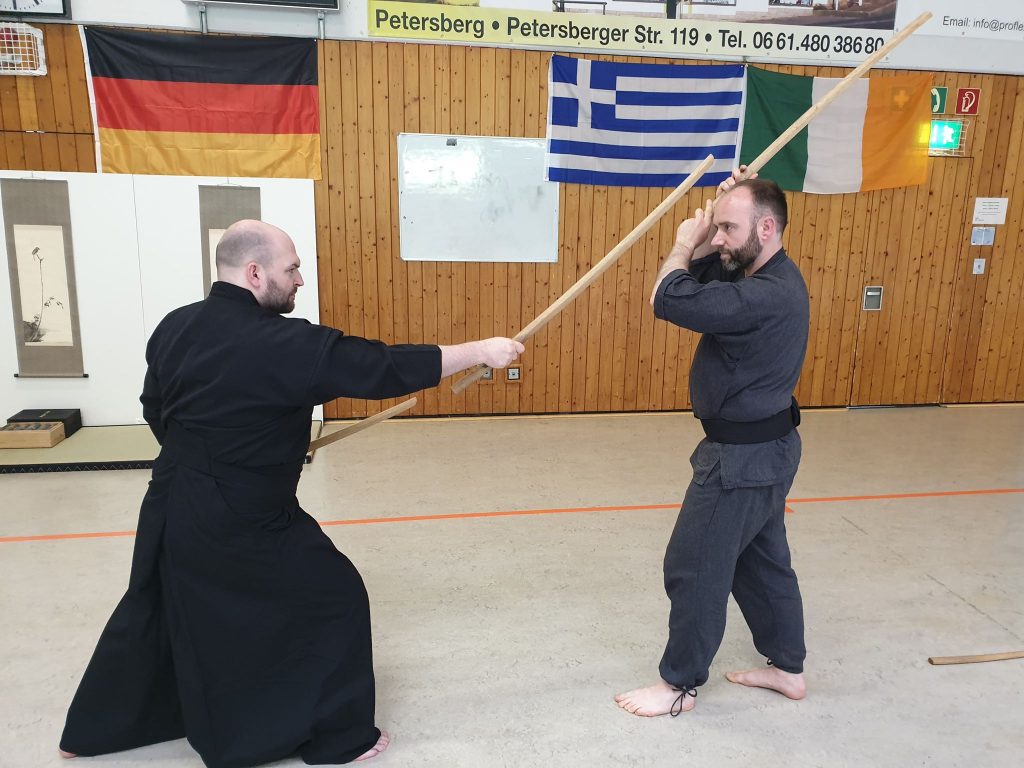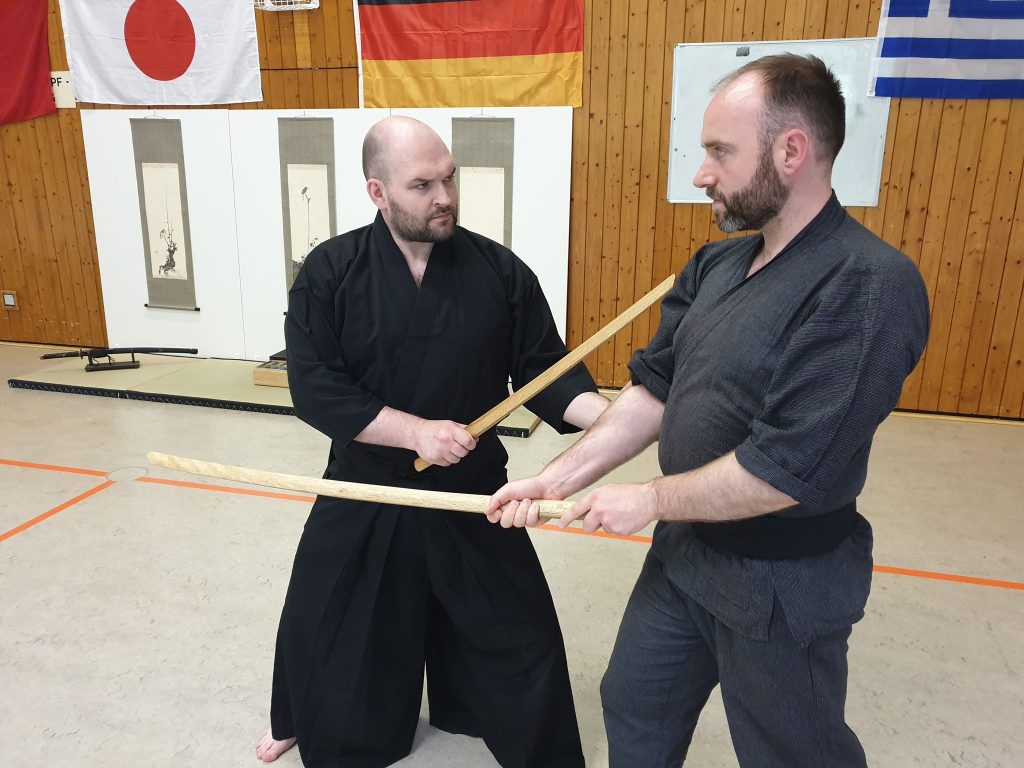 ●●●Itary (Lorenzo Ricci,Alessio Repetto)
The 2019 has been, without a doubt, a very intense year for the Italian Shibu of Hyoho Niten Ichi Ryu; our organization remains the usual one, which means that there are monthly seminars (alternately of one and two half days) under the guide of Lorenzo Ricci sensei (our national responsible) in the main dojo in Foligno, and training sessions in Piemonte conducted by Alessio Repetto. As usual we participated at the annual International Seminar (this time held in Germany) with four people.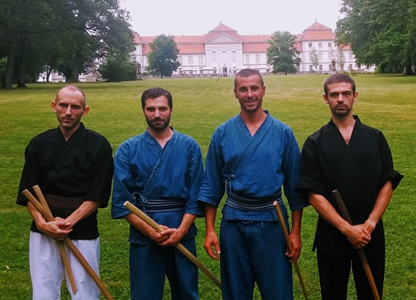 Besides that, it is also noteworthy that we made two embu; the first has been in the occasion of the European Koryu Bujutsu Convention, which sees various european koryu groups join together to give a demonstration. This time in particular it has been organized, for the second time in Italy in conjunction with the Koryukai, an event dedicated to all traditional japanese arts (not just the martial ones).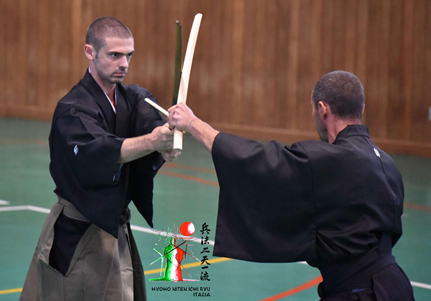 The second embu we did has been in October, during the edition of the "Festival dell'Oriente" (Orient Festival) at Perugia, which is a festival about all oriental cultures in general.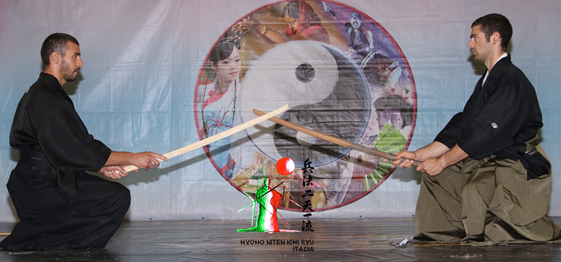 This year has been very positive as well for our relationship with the French Shibu: one of our practitioners (Alessio Repetto) had the chance to take part in many keiko of the French group, held in Paris by Nguyen Thannh Thien; we believe that, apart from the obvious benefit in the practice, this can allow our groups to have a closer relationship. We can conclude saying that we are continuing our practice like usual, each of us trying to give our best and striving to represent our Ryu, when there is a chance to do it, at the maximum of our abilities, going towards the next year that, we are sure, will be even more challenging and full of opportunities!
●●●Natherlands (Chris De Jongh)
Dear Soke, Dear Noriko, Dear Dojo Leaders,
First of all, Merry Christmas and best wishes for a special 2020. Hopefully we will see each other in Japan this year. The Dutch HNIR group consists of 10 loyal members. This year we of course participated in the Gasshuku in Fulda. We were involved in various local and national demonstrations. In addition to the regular trainings, there were 4 extra weekend trainings. We maintain good contacts with various koryu groups in the Netherlands.
For further information about our activities I refer to our website. www.hyohonitenichiryu.nl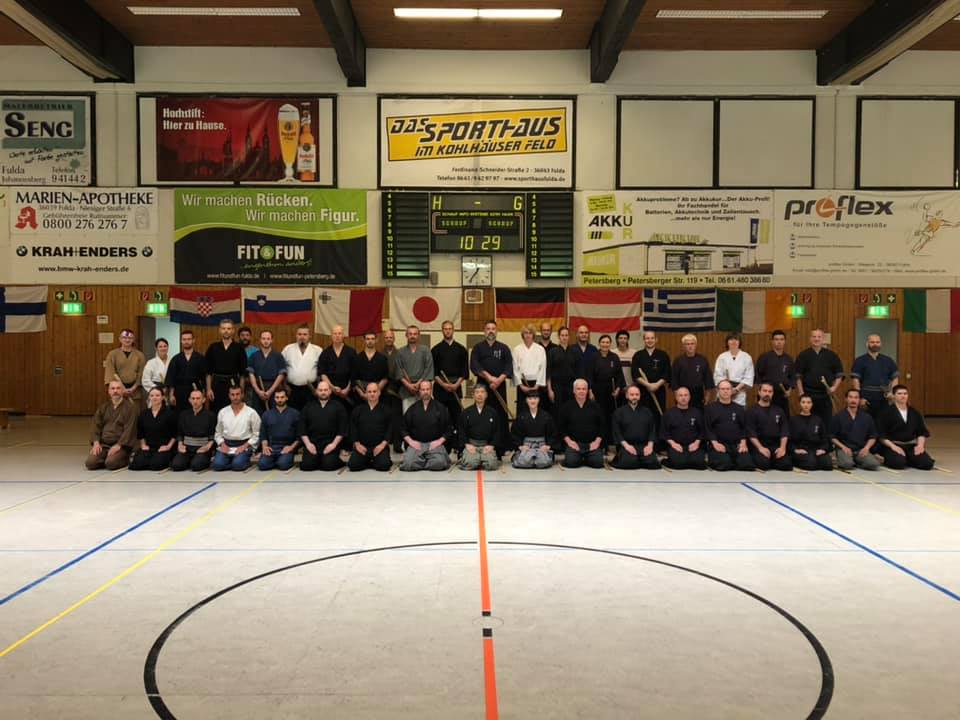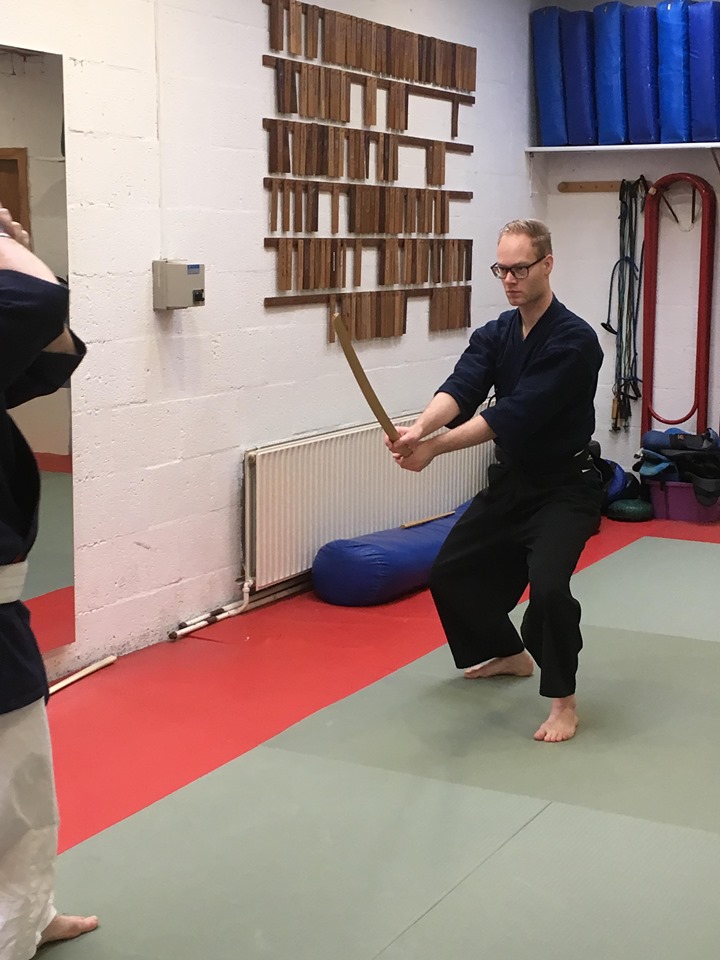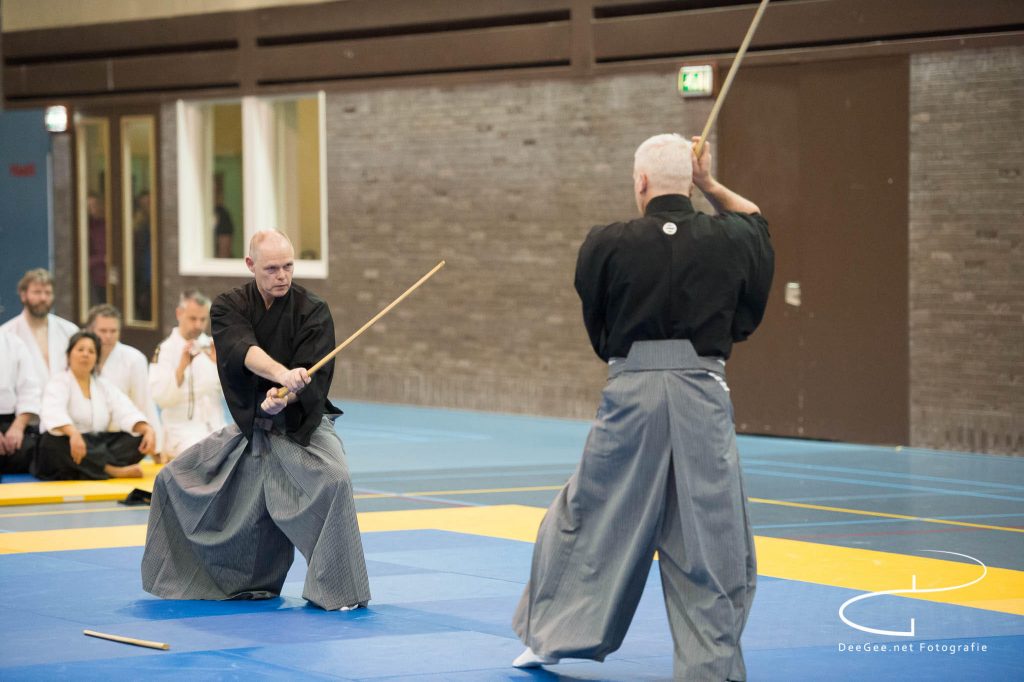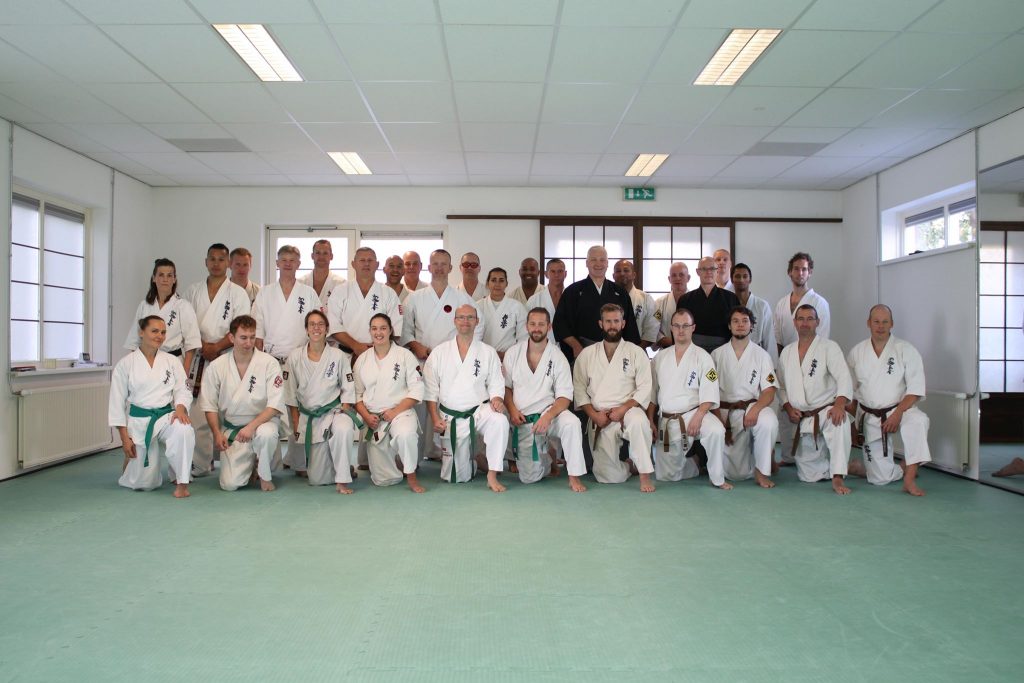 ●●●Slovakia (Filip Razga)
we are just practising what we have learned.
●●●Slovenia (Dani Vombek)
HYOHO NITEN ICHI RYU SLOVENIA – report for 2019 Activities: • 2 x weekly training in Hombu dojo HNIR Slovenia • organization of two one-day seminars (Austria, Croatia, Slovenia) • presentation of HNIR at two International events: o International Judo competition in Maribor o International Karate seminar in Griže • participation at an International HNIR seminar in Germany (7 members) • opening a new Dojo in Ljubljana (capital city of Slovenia) We will have our last keiko (and a little sayonara party) in 2019 on December 28th.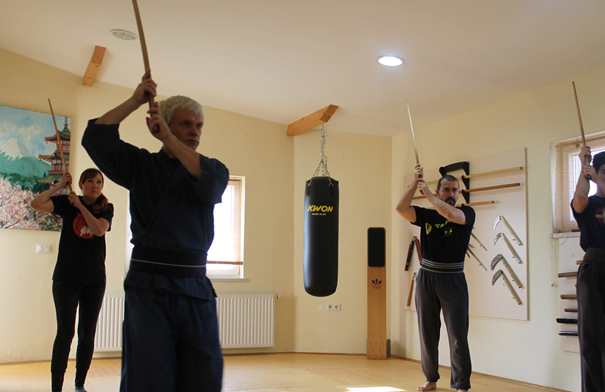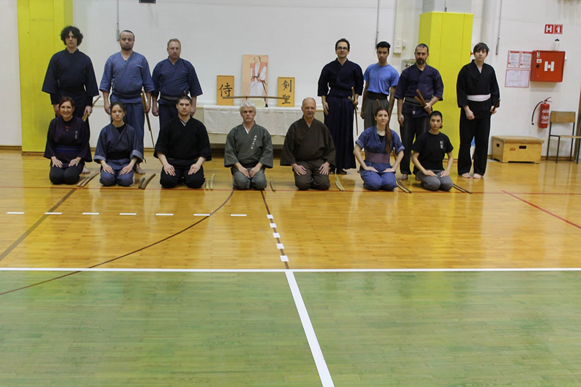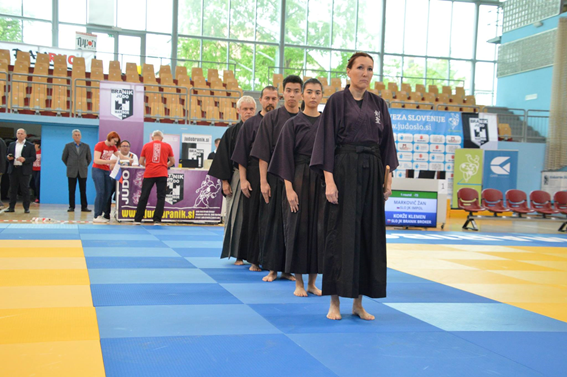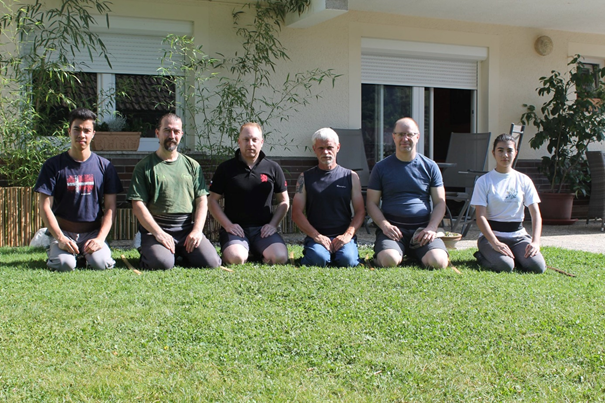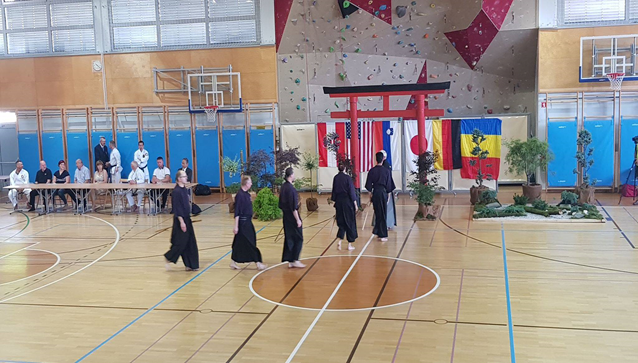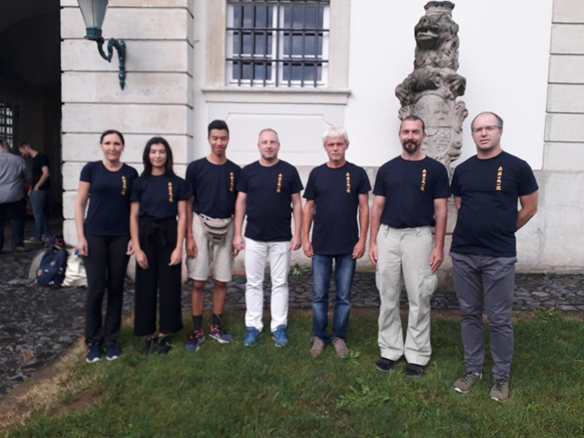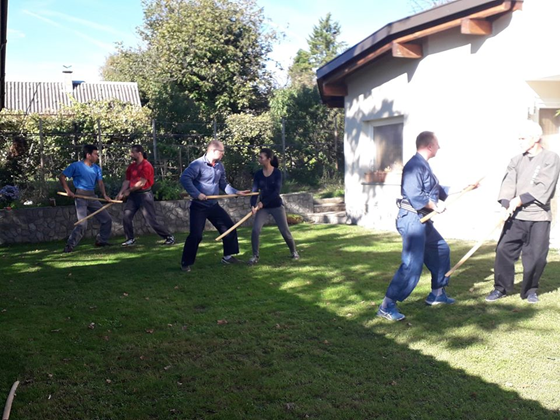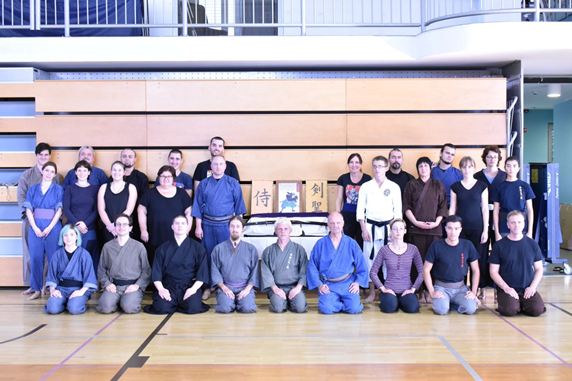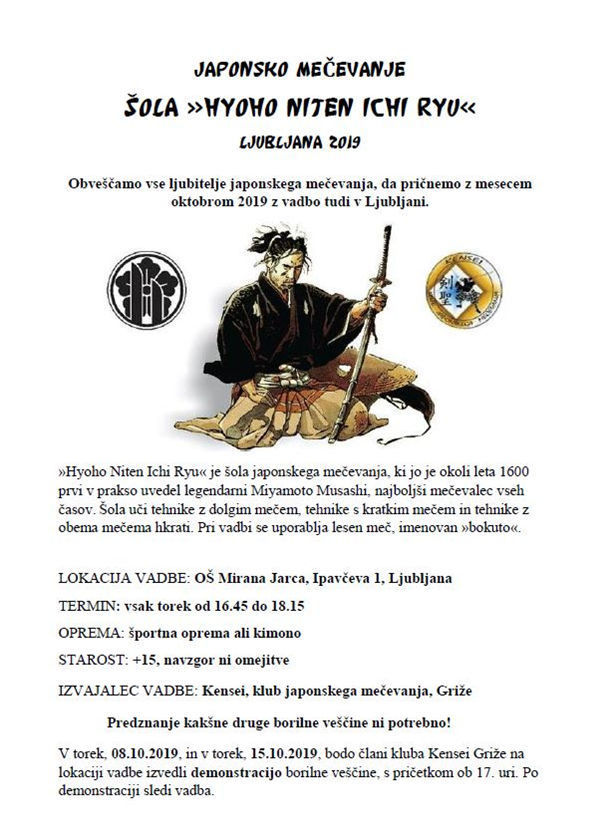 ●●●United Kingdom (Scott Halls)
Hyoho Niten Ichi-ryu UK 2019 Report:
The Hyoho Niten Ichi-ryu UK Shibu had a very enjoyable but quiet year in 2019, sadly with low numbers due to the uncertainty of Brexit, but for what we lacked in numbers this year, we made up for with some spirited keiko.
HNIR-UK is comprised of four formal groups – Heijoshin Dojo (Walsall), Ojika Dojo (Newcastle), Shiroi Bara (York) and Shinboshin Dojo (Hampshire), all of which have a regular (usually) weekly practice. In addition to this, we all meet every two months at the various locations around the UK to give everyone a chance to do keiko with those who are too far away geographically to train with regularly. These godo-keiko usually emphasise the basics of kenjutsu in order to develop a good standard across the group's membership, but we also made time to train in the more advanced elements of our art when the opportunity arose amongst the more senior members.
This year, eight members from the UK attended the European keiko in Fulda, Germany led by Kajiya-soke. We send our thanks to Roland Gericke of HNIR-DE for his hard work in organising such a wonderful event.
In addition to our practice, we also did a couple of demonstrations for Panasonic and Sony to help boost awareness of kenjutsu in the UK.
We enjoyed visitors from Malta and Germany to our keiko this year. It is a pleasure to see friendships grow across our ryu, and we extend this welcome to anyone else who trains in HNIR under Kajiya-soke.
We look forward to seeing our friends and teachers in 2020 in Kokura!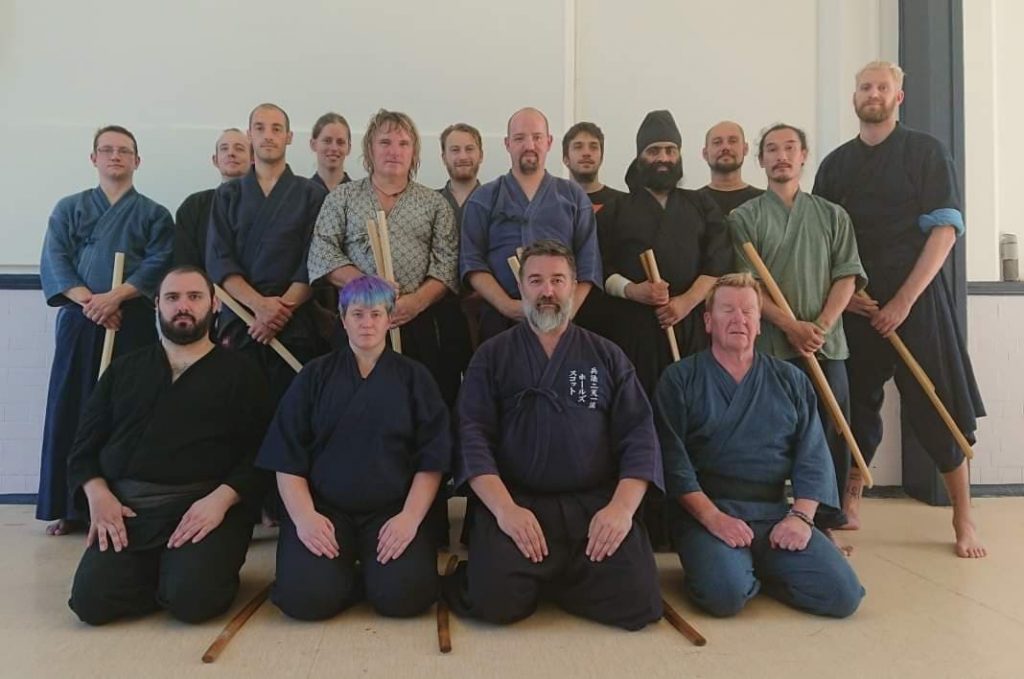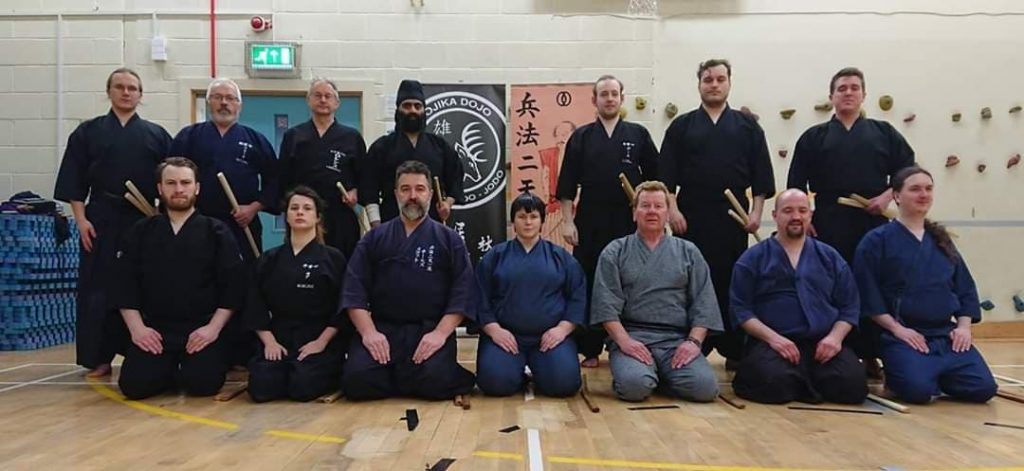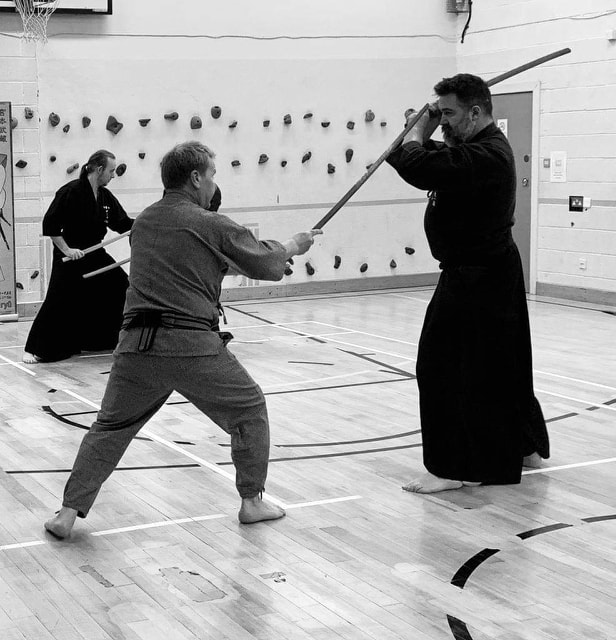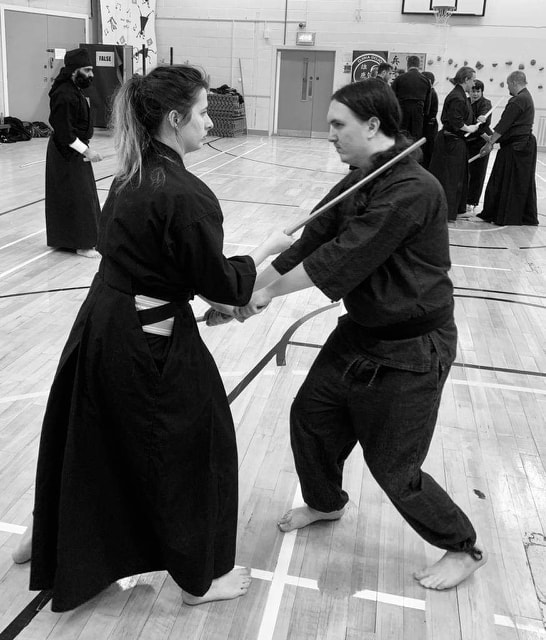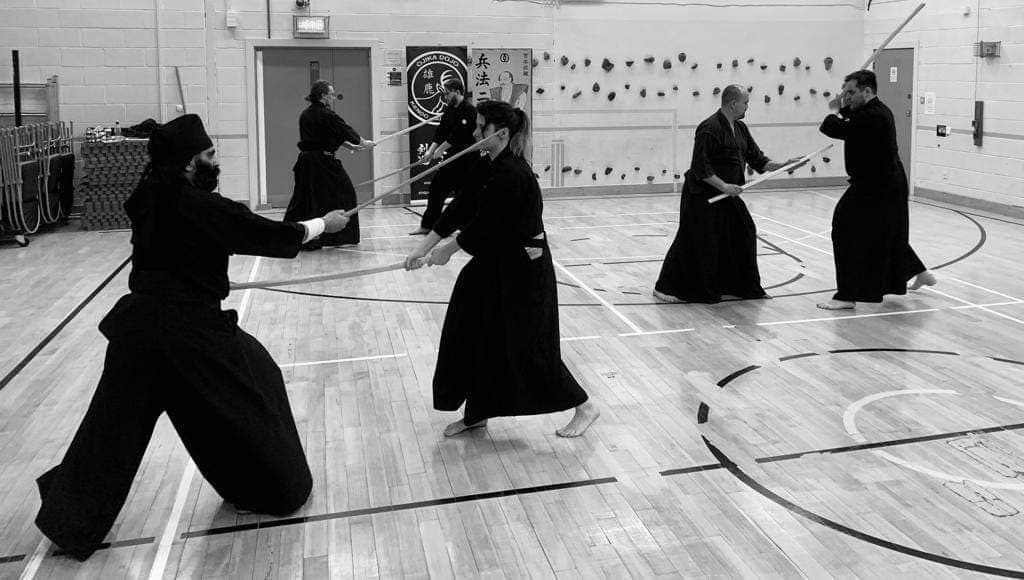 ●●●Malta(Robert Scicluna)
Even though we are very small and very new, 2019 was a busy year for the Maltese study group of Hyoho Niten Ichi-ryu. In April, I attended one of the UK Shibu's keiko, lead by Scott Halls. In July, I attended the Yearly Seminar in Fulda Germany, hosted by Roland Gericke, and for the first time, I was given the honour of attending the country representatives meeting as the Maltese representative, despite us being only a study group at this stage. We train about twice a month and we are working on building a strong foundation for the future of the ryuha. As instructed, we are maintaining a low profile and slowly letting people know of the existence of Hyoho Niten Ichi-ryu in Malta. We have a small amount of practitioners who are learning well and looking forward to training at the next possible annual seminar with Kajiya-soke and my new friends in Hyoho Niten Ichi-ryu. Some of them are showing great promise and interest in the ryuha and I hope I can retain them for the future. For 2020, we are looking forward to a great year ahead. Roland Gericke will be visiting Malta for a small seminar, and Malta WILL be participating in the upcoming seminar in Japan. The active study partners and myself are happy and honored to be part of the Hyoho Niten Ichi-ryu family.
●●●Japan (Takanori Kajiya Soke,Noriko Maeda)
事務局の前田です。二年ぶりの活動報告をさせて頂きます。
今年も各地で演武会に参加させて頂きました。
二月に古武道協会設立40周年を記念する第42回日本古武道演武大会が行われ、出場。八月は厳島神社にて親と子の武道演武大会。十月は鹿島神宮奉納、日本古武道交流演武大会。11月は稽古でお世話になっております富野市民センターのふれあい文化祭に出場させて頂きました。
今年はヨーロッパセミナーがドイツで行われ14か国52名が参加。カナダセミナーが2回。南米チリセミナーは国内情勢の悪化の問題があり中止になりました。
TV出演は世界ふしぎ発見!の鹿島神宮のお話しで演武動画にて出演。NHKの日本人のおなまえっ!では必殺技の名前の回で二天一流の虎振りを取材して頂き、私の体に小さなカメラを装着し技の解説。とても素敵な映像を撮影して頂きました。
今年の訪問稽古はイギリスより2名。フィンランド、カナダ各1名。初のパナマ1名、中国より2名を受け入れました。
新たな入門者は3名。頑張って続けて行って欲しいなと思います。
今年初の試みとして東京の天然理心流の本部道場へお邪魔させて頂き、合同稽古、技の交換会を行いました。日々木刀を握っている私達ですが、全く新しい技をやるとなると非常に難しく、大変良い刺激、そして勉強になりました。その節は天然理心流の平井宗家、皆様、大変お世話になりました。
さて、いよいよ来年は初の国際セミナーを日本で行います。世界20か国から集まって一緒に稽古を行うのですが、皆が日本の文化や二天一流の技を十分学ぶことが出来るように精一杯務めさせて頂きます。
今年お世話になりました皆様、本当にありがとうございました。来年度もどうぞ宜しくお願い致します。