4月12日~18日、イギリスの辛抱心道場より訪問稽古に来られました。
道場長のEduardさん、息子のTristianさんです。Eduardさんは二年ぶりの訪問で今回は初めて来日した息子さんも一緒に稽古致しました。
小倉入りしたその足で巌流島へ渡り稽古を行いました。まずはこの顔はめでスタート!
12~18th on April, They came for a visit training from a Shinboshin dojo of the U.K.
Eduard is dojocho of shinboshinn ,and his son Tristian. Eduard took a Hombu keiko 2years ago,and Tristan was coming to Japan for the first time and we training together this time.

We went to Ganryujima when they came to Kokura soon. Let's start keiko First of all…this Photography!!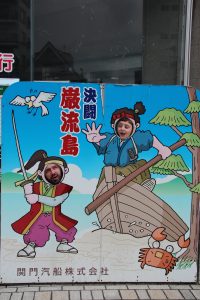 関門汽船に乗り巌流島へ
Aboard the Kanmon kisen, and went to Ganryujima.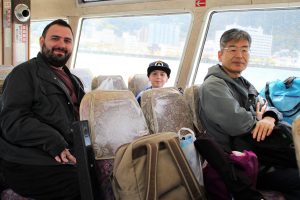 朝は少し雨が降っていたのですが、しばらくすると素晴らしい晴天に恵まれ気持ちの良い稽古が出来ました。
It was raining a little in the morning but  it's blessed with great weather and after a while and had good practice.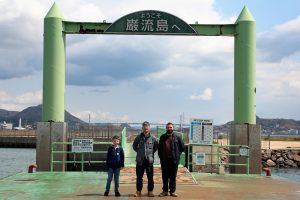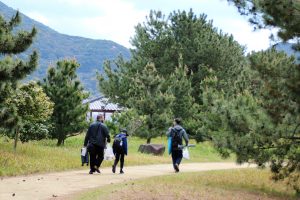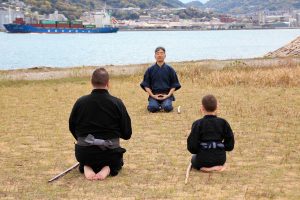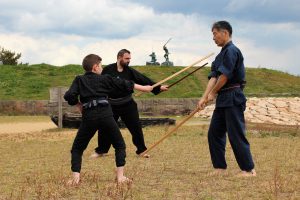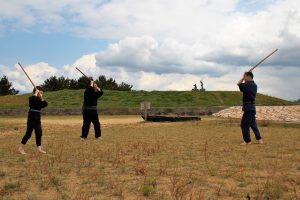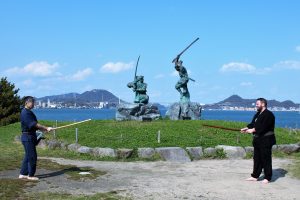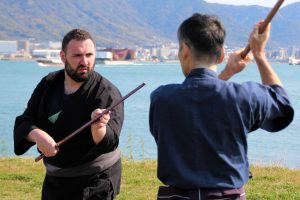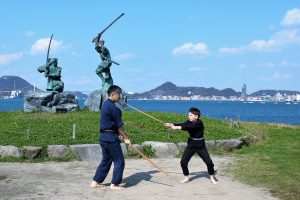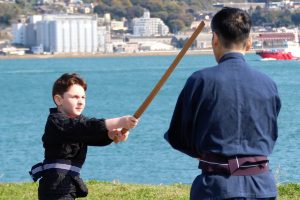 Tristanは我が道場の少年剣士、武蔵と伊織と同じ年。真剣に稽古に取り組む姿、将来が楽しみですね。
Tristan is same year as a boy swordsman, Musashi and Iori. He was really work on a practice seriously.
I look forward to his future.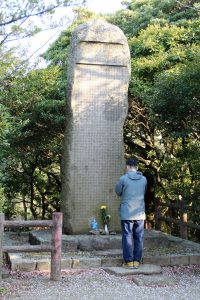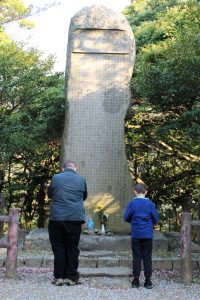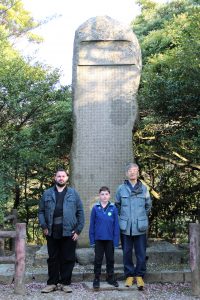 稽古の後、手向山へ。武蔵先生の碑へご挨拶。
We went to Tamukeyama after practice. We greet a monument of Musashi sensei.
歴史や化学にとても詳しいTristanと、北九州市のいのちの旅博物館へ。楽しんでもらえたかな?
Tristan is very familiar with history and science!! so we went to Inochinotabi museum of Kitakyushu-city. Could you enjoy?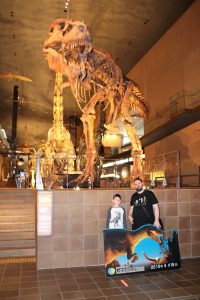 八坂神社へお参りし、この春に出来立ての小次郎・武蔵像を見に行きました。
小倉城の二天一流の誠心直道の碑のお隣に建っています。
We went  to Yasaka shrine, and we went to see Kojiro and Musashi statue just made in this spring.
It's built  next to the Seishin jikidou monument of Nitenichi-ryu  of Kokura castle.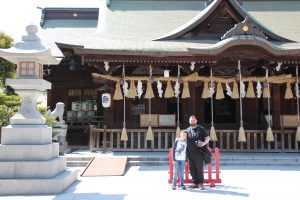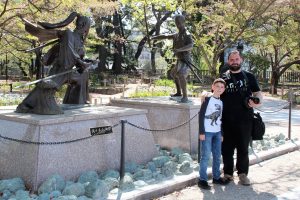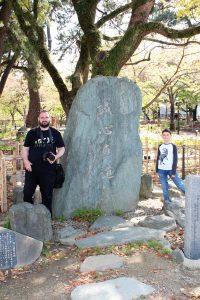 本部道場での稽古にも参加されました。
稽古前のお掃除も勿論手伝って頂きました。
Participated in training at the Hombu.
He helped us to clean before a practice of course!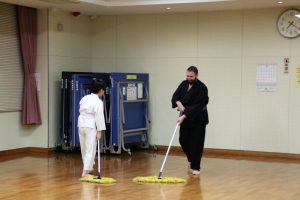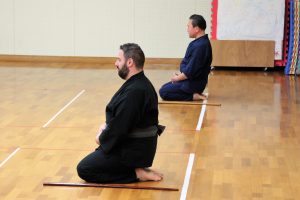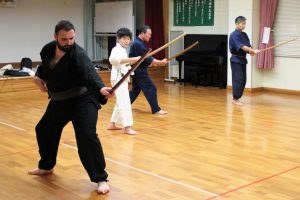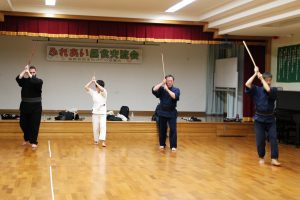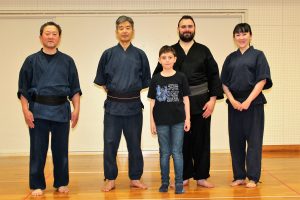 この日は棒術をメインに稽古したのですが、私が打太刀をしていたので写真が有りません。。。残念。
せっかく来たのだから、出来るだけ多く伝えたいと思うのですが長いフライトや時差もあり大変だったと思います。
本当にお疲れ様でした。
次は7月のドイツセミナー!皆さんと一緒に稽古出来るのを楽しみにしています。
We practiced Bo-jutsu on this day, but I was doing a Uchidachi, so there are no pictures. Sorry…
They came from so far away, so We'd like to tell as much as possible, but I think there were also long flight and jet lag, I think it was very hard to practice many things. But thank you for your hard work.
The next is a German seminar in July! I'm looking forward to being able to practice with everyone.
前田 典子