久しぶりに投稿いたします、前田です。
先日、関門時間旅行さん(https://kanmontime.com)が三郎丸の道場に撮影と取材に来られました。
なんと、関門時間旅行さんの番組(関門時間旅行Deeper!!)の栄えあるシーズン1のテーマが
「巌流島後の宮本武蔵をめぐる旅」なのです!
I contribute it after a long absence, I'm Noriko Maeda.
A  Kanmon time travel (https://kanmontime.com) came to the dojo of Saburoumaru for photography and collect deta the other day.
Program (Kanmon time travel Deeper!!))  what  a theme of  season 1  is!!
"It is a trip around Musashi Miyamoto after duel of Ganryujima"
今回は宮本武蔵先生によって創始された二天一流、そして武蔵先生の数ある芸術作品の中でも最も有名な(枯木鳴鵙図)を北九州在住の水墨画家、砥上裕將先生に目の前で模写して頂き初共演となりました。
まずは私共の演武を撮影、一刀勢法、小太刀勢法、二刀勢法。砥上先生は初めてご覧になられたそうです。
いかがでしたでしょうか?
We were first meeting this time, Our Niten Ichiryu has beginning by Musashi Miyamoto,and Sumi drawing painter Hiromasa Togami living in Kitakyusyu city,He copy drawn right front of us  most famous (Koboku Meigekizu)in a work of art of Musashi Miyamoto.
At first we demonstrate our Embu,Itto seiho,Kodachi seiho and Nito seiho. Mr Togami seemed to be looked at for the first time.How did you like it?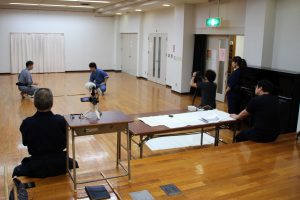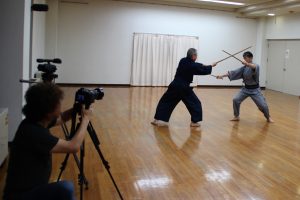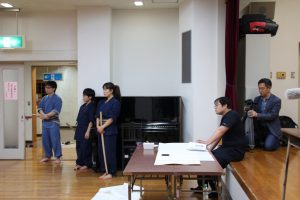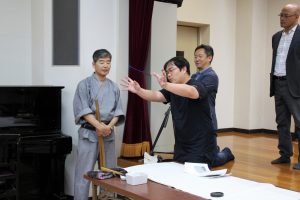 その後少しだけ感想や質問などお話しし、いよいよ枯木鳴鵙図を描いて頂きました。
私どもも皆、水墨画の作成現場を見ることは初めてでとても興奮していました。
武蔵先生がどのように筆を動かし、考え、表現したかったのか。
そんなお話をされつつ、あっという間に完成いたしました。
We talked about an impression and  a question only a little,  and  draw Koboku Meigekizu afterwards.
This was the first time that all of us looked at the making  of sumi  drawing and We were excited very much.
We thought that how Musashi sensei moved a writing brush, and how did Musashi sensei want to expressed it…
While it was had such a talk, it was completed in no time!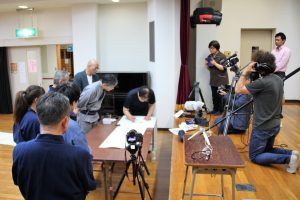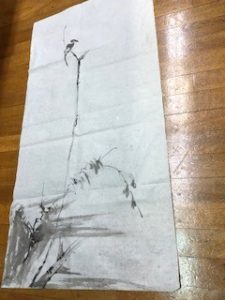 美術館や画集で見る作品が目の前に!!感動です。
その後に加治屋宗家は少しだけご指南頂きましたが上手くいったでしょうか?
A work to watch with an art museum and a collection of pictures of koboku Meigekizu in the very front of us!!!It is an impression.
Mr Togami instruct how to draw only a little bit to Kajiya Soke, Is it done well sensei?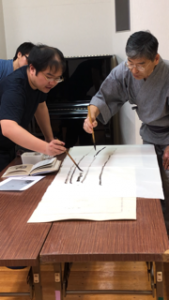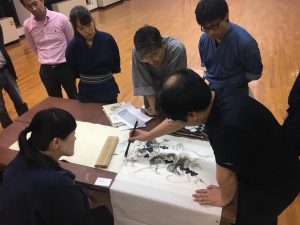 私たちのおねだりに快く幾つも作品を描いて下さったのですが、本当に素晴らしくて感動しました。
その後、私個人的に砥上先生に弟子入り致しました。私もいつか砥上先生の様に武蔵先生の伝えたかった事が理解できるように学んで行きたいと思います。
We wanted to see more! Then He wrote some drawing after that,but it was really splendid and impressed and amazing!
I was apprenticed to Mr Togami very personally afterwards.Because I want to learn and understand  that What Musashi sensei  wanted to tell us  like Mr Togami.
今回取材をしてくださった関門時間旅行の皆様、富田隊長に歴史侍こと小野剛史さん、北九州市の職員の皆様、そして武蔵先生の画を見せて下さった砥上先生、本当にありがとうございました。
素晴らしいご縁に感謝致します。今後とも宜しくお願いいたします。
それでは、こちらの撮影した様子は下記の関門時間旅行Deeper!!の番組でお楽しみください。
Thank you very much for everyone of Kanmon time travel, leader Tomita san, History samurai Ono san, staff of Kitakyusyu city, and Togami san which showed copy drawing of Musashi sensei.
We are thankful for the wonderful relationship and We'll appreciate your continued support.
O.K. then, this program of Kanmon time travel Deeper of follows!
Please enjoy it!