今年最後の訪問稽古がありました。
11月23日から25日、オーストラリアからお越しのクリス パーカーさんです。
今年の3月にメルボルンで行われたセミナーに参加された事をきっかけに連絡を取るようになったのですが、イギリス支部で学んだ門下の者がオーストラリアに渡り指導していた為、遠く離れた場所で二天一流の技が継承されていたんです。
現在メルボルンで二天のリーダーを務めておりますクリスさんの訪問稽古の様子をご紹介致します。
There was the last visit training this year.
Chris Parker coming from Australia from 23-25th November.
I came to contact him  having been workshop in  Melbourne in March of this year, The pupil of the UK shibu  emigrated to Australia and instructed Niten Ichiryu.Therefore he seemed to take a keiko of a niten-ichiryu in Australia.
I introduce the visit training of Chris is a leader of the Niten in Melbourne.
今回は三日間すべて個人稽古です。
It is all a personal keiko this time.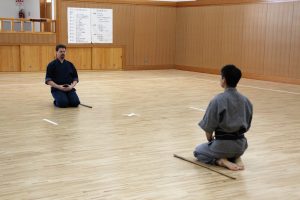 セミナーでは伝えきれなかった細かい基本をしっかりと学んで行きます。指先と八相からの正面斬りは間違った理解でやっている方が多いため特に集中して行います。
Kajiya Soke teached the  details basics that He was not able to convey by the seminar. Because there are many people doing by wrong understanding, sassen and shomen from hasso.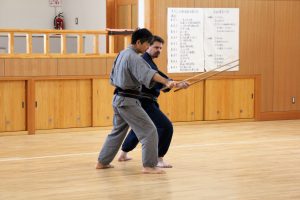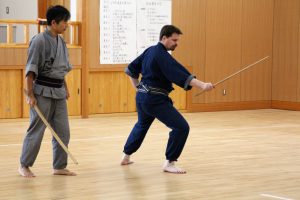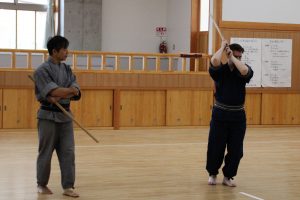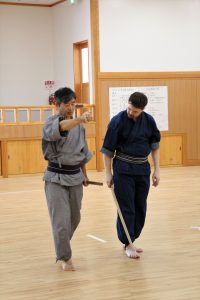 初日は基本と一刀勢法を学ばれました。
He learned basics and the Itto seiho on the first day.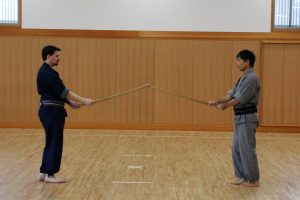 二日目、極寒ではありますが雨予報は外れてくれ助かりました。
手向山の小倉碑文へお参りし、巌流島へ向かいます。
On the second day, it was severe cold, but the rain forecast a missed .
We pray at the Kokura Hibun of the Mt Tamuke and go to Ganryujima.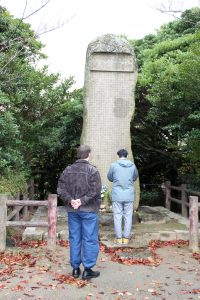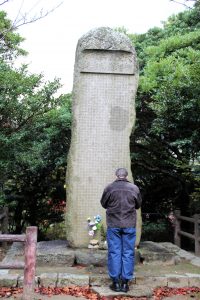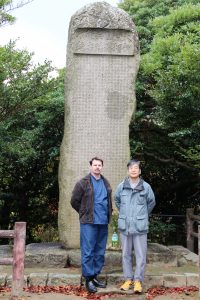 大揺れの船旅を楽しみながら到着致しました。
We arrived while enjoying the sea voyage of the roller-coaster ride.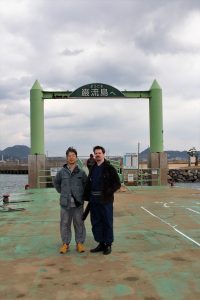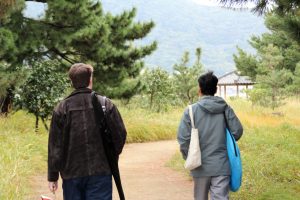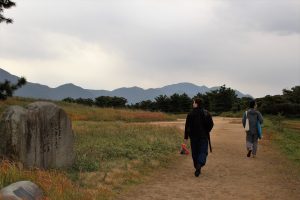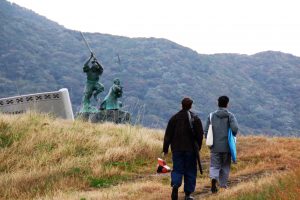 風が強く10度を下回る気温で、心まで鍛わりそうな稽古スタートです。
Wind was very strong and at temperature less than 10 degrees, the keiko start that We seem to good keiko for Kokoro.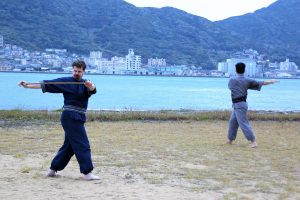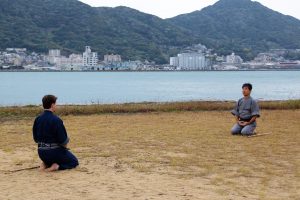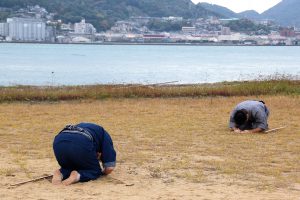 この日も基本から始まります。
Let's start  from basics .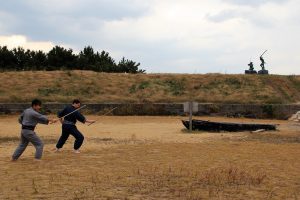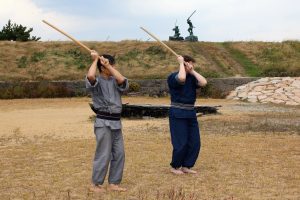 小太刀勢法を稽古しました。
Training Kodachi seiho.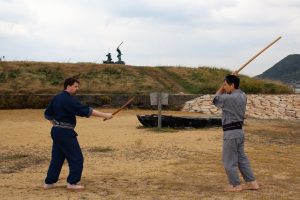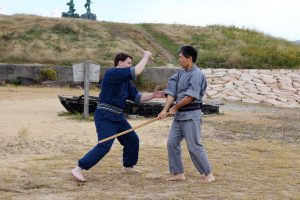 観光のお客様達が帰られた隙に像の前で少しだけ演武します。
We do embu only a little time at front of statue when visitors returned.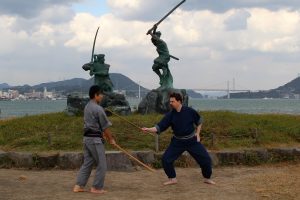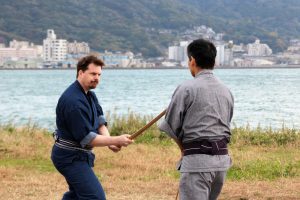 お昼から少しだけ太陽が出てきました。午後は二刀勢法の稽古です。
In afternoon,The sun rising only a little.  Keiko of the Nitto Seiho in the afternoon.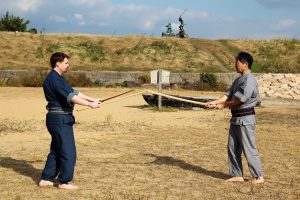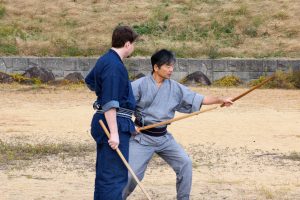 私どもにとっては馴染の深い巌流島ですが、小説などに出て来る決闘の聖地でもありますこの島で稽古をしたい海外の方はとても多いです。海に囲まれ、お店も車も雑音も無いこの島で稽古を行うのは400年さかのぼって武蔵先生の生きた時代を感じるのに丁度良いのかもしれません。
It is familiar islet Ganryujima for us, but many members came from overseas want to practice in this islet that the holy place of the duel to come novels.   Though it maybe just right to  back to  400 years feels like  live time of Musashi sensei. No shops,no cars,no noise in this islet!
最終日の稽古。この日は元気いっぱい剣道の子供達、居合の方や合気道の皆様と一緒になりまして
賑やかな稽古になりました。
二日間学んだことを再確認し、棒術も基本だけ学びました。
A keiko of the last day. With children of the  kendo,and Iai  and aikido group.
Is was lively keiko!!
Soke reconfirmed that Chris learned for this two days, and learned Bojutsu only basics.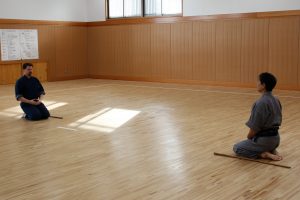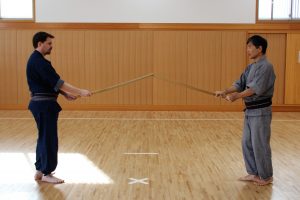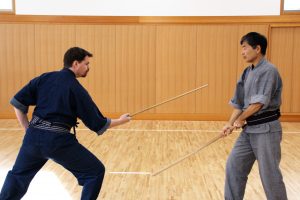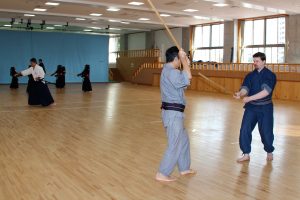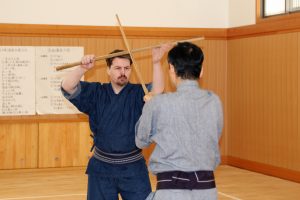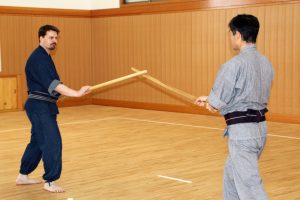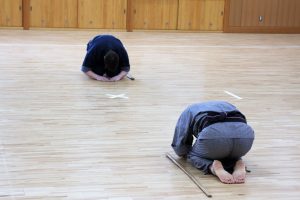 あっという間の3日間でした。
訪問稽古に同行させて頂けますと、私自身もいろいろな事を気づかされます。
訪問した皆様がより良い稽古が出来ますようにこれからのもお手伝い出来たらなと思っています。
クリス、また一緒に稽古致しましょう!ありがとうございました。
It was a blink of time this three days.
I am reminded of various things when I  go visit keiko together.
I think of  to help to able to better practice all of you.
Let's keiko together again Chris! Thank you very much.
Noriko Maeda