1月5日から9日まで、 イギリスのマンチェスターよりDavid Leongさんが訪問し稽古致しました。
Visitors keiko from Manchester UK  from January 5 to 9th.
初日、横代の体育館で朝稽古。
The first day,mornimg keiko in Yokoshiro Dojo.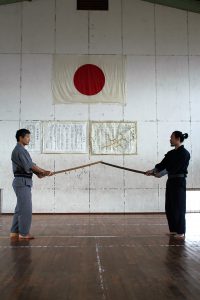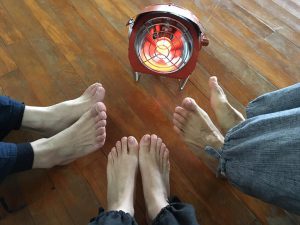 この日は今年の初稽古でしたが、非常に気温が低くて息は白く、足先はとても冷たくなりましたが清々しい初稽古となりました。
It was the hatsu keiko (first training)of the year. Temperature was very low,and breath was white,and tip of a foot became freeze…
同日の夜、通常の稽古に参加して頂きました。
Normal keiko on the night of the same day.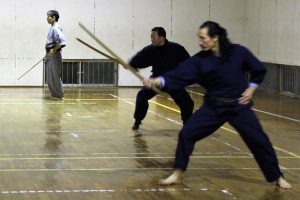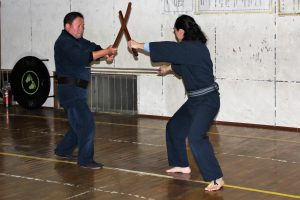 今年初の集合写真!(全員集合でないのが残念です・・・)
Group photo of the begining of the year!!  (I am sorry that not all the members)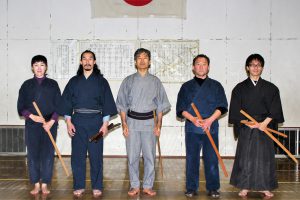 滞在中、あまり良くない天気予報だったため曇り空であろう翌日に思い切って巌流島へ
A weather forecast was bad during his stay,Cloudy wether expectation this day,but We went to Ganryujima!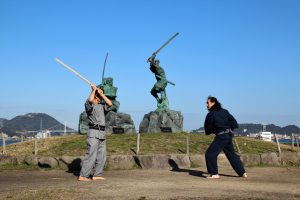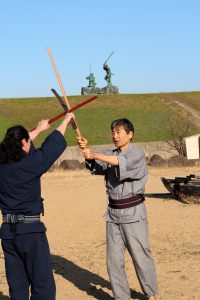 すると、見事に晴れました!!
However, it was fine day wonderfully!!
本当に加治屋宗家は晴れ男なんだと思います。極寒ではありましたが、最高の天気と空気を満喫しつつ稽古が出来ました。
Kajiya soke is really a fine man. It was very cold,but took a keiko while enjoying the best weather and good air.
帰り道、手向山へ小倉碑文をお参りに行きました。
We went for prayer for Kokura hibun to a way back.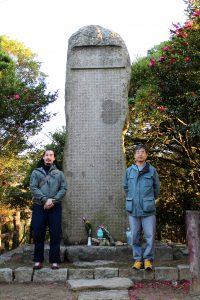 椿の花の散り際がまるで赤い絨毯の様で、とても綺麗でした。400年も前に刻まれた文字やその意味、この山に生えている木や草花についても非常に興味深く質問してくれました。
全てに上手く答えてあげれない自分に悔しいです。
A Tsubaki(camellia )was fall down was like the totally red carpet,so beautiful.
He asked about meaning of the Carving letter 400 years ago,the flower which grew on this mountain with great interest. I am sorry I could not answer well…
週末は見事に天気が崩れ、雨風のBGMの中~横代道場の稽古で大半を過ごしました。
Weather worsened wonderfully on the weekend…In BGM of rain and the wind, we spend most of the keiko of the Yokoshiro dojo.
途中、Davidとはお蕎麦屋さんに行ったりショッピングに行ったり。彼はマンチェスターで日本料理のお店を営んでおられるので(香川真司選手も食べに来てたそうですよ!)食材も良く見てまわりました。
I and David went to soba noodle shop and shopping on the way,He is ran the Japanese restaurant in Manchester(Shinji Kagawa seemed to come to eat,too)so we went to see the Japanese ingrediants.
最終日には熊本へ。霊巖洞で稽古をしました。
We went to the Reigandou of Kumamoto on the last day.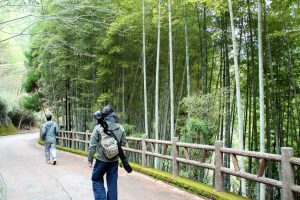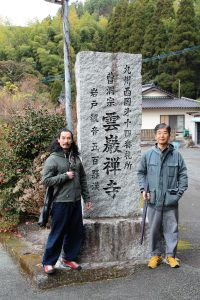 祝日だった為、観光客の方たちも来られていましたが合間をぬって撮影させて頂きました。
Many tourist came because it was a holiday on that day, I photographed of an interval.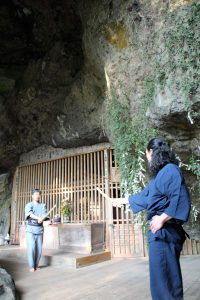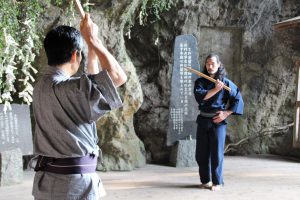 とても静かで、武蔵先生のおられた400年前から変わらない風景をとても気に入った様子で感動していました。
It was very quiet and He liked scenery not to change for 400 years of the time when there was Musashi sensei and  was impressed.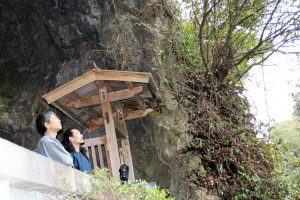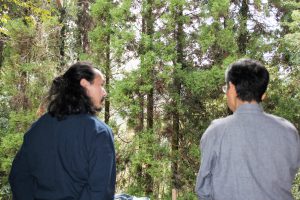 Davidさんは以前からヨーロッパのワークショップに参加されていたので、存じ上げてはいたのですが実際にお会いし、稽古し、お話しする事が出来てとても良い友情が芽生えました。
下手な私の英語を根気強く、いっぱい聞いてくれてありがとうございましたDavidさん!!
I knew him because David san always participated in a workshop of Europe, but I met him and took keiko,and talked a lot, I became the friends that we were good. Hear my hetakuso(very bad) English a lot patiently..Thank you so much David san!!
Noriko Maeda