---
加治屋です。
今日は、特に『五輪書』の書き出し部分について解説してみようと思います。
Hello, this is Kajiya.
Today I'd like to explain the opening paragraphs of "Gorin no Sho".
武蔵先生は、死期を悟られた頃、二天一流と名づけた兵法の道を、初めて書物に記述しようと思われました。
そして、寛永二十年(1643)十月上旬の頃、九州肥後の地にある岩戸山に登って、天を拜し、観音を礼拝し、仏前に向ったそうです。
When Honourable Master Musashi sensei sensed his death, he decided to start putting his methods of Hyoho which he named "Niten ichiryu" into his scrolls for the first time.
In early October in 1643 (year 20 in Kan-ei era), he climbed Mt. Iwato located at Higo(old name of Kumamoto) in Kyushu. Then he worshipped "Ten", "Kannon" and headed  to "Butuzen"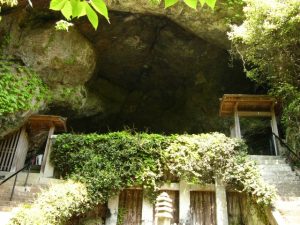 これは、執筆が無事完了するようにと、祈願したということです。武術とは全く関係ありません。我々と同じく、物事が成就するのを願ったと言うことです。
He only did this in the hope that he could accomplish writing it all and it was nothing to do with his martial arts. Just as ordinary people like us, he just prayed for things to go well.
外国語に訳される場合、天がGodsと訳される場合がありますが、天はGods ではありません。日本には西洋で言うところのGodsは、ありません。また天は神(Kami)でもありません。
When translated Japanese into English, Ten (天) is often translated into "Gods"  or  "heaven", but our Ten(天) is not Gods or heaven. We Japanese don't have Gods equivalent to those of the west. "Ten" is also different from Kami.
この場合の"天"は、「おてんとうさま」です。すなわち、太陽であり、私たち人間の良心の様な物です。私が子供のころ、悪いことをしようとすると、「お天道様が見てるよ」、と注意される事がありました。人が見ていなくても、大きな存在が見ている、自分の良心が見ていると言うことです。
"Ten (天)" in this case means "Otentousama". In other words, it is "the sun". "Otentousama" is something like a conscience of human beings. In my childhood, when I tried to do bad things, my parents would say, "Otentousama (the sun) is watching you". This keeps reminding me that something like a big presence or my conscience is watching me all the time even if nobody is around me.
武蔵先生は、言います。六十数回まで勝負を行なったけれども、一度も負けたことがなかった。三十を越して振り返ってみると、これは兵法が極まっていたので全て勝った、ということではなかった。そして、深き兵法の道理を得ようとして、朝に夕に鍛練してきたと仰います。結局、兵法の道にやっと適うようになったのは五十歳の頃であった、と言われています。
Musashi sensei said that he had never lost once in his over 60 times fights. He recalled when he over thirty years old and said humbly that he won the fights not because his methods of Hyoho were perfect. Then he had been practicing hard every day and night to achieve deeper understanding of ways of Hyoho. In the end, it is thought to be around fifty years old when Musashi sensei felt all his methods of fighting fell into places of the ways of Hyoho.
ここではっきり分かる様に、武蔵先生の天才をして、三十歳を越して五十歳の頃まで、二十年間朝に夕に鍛錬して、兵法の道が分かって来たと仰っているのです。百日間神に祈って、夢で極意を授かったとか言う話ではないのです。稽古を通して会得されたのです。命を掛けた勝負をしたことのない私たちが、週に数回稽古して何が得られるというのでしょうか?
It is very clear here that even a genius as Musashi sensei, he humbly said that he trained very hard days and nights for more than 20 years and eventually acquired the ways of Hyoho. It is strictly different with such claims to pray to god for 100 days and receive the secrets in your dream. He acquired these purely by hard training. For koryu practitioners we never fight to the death in modern days unlike Musashi's time and what could we acquire by training a couple of times a week?
私たちは、神に極意を授けて頂くよう祈る事などしません。日々謙虚に鍛錬するのみです。
We don't pray to God for secrets of fighting. We just need to train every day humbly.
さて、観音様についてですが、いわゆる仏教(Buddhism)とは、ちょっと違います。もっと日常生活、または庶民に近い慈悲深い存在です。我々を助けてくださる仏様ではあるけれど、仏教ではなく、もっと親しみ易く、(昔の人の)庶民生活に根ざしています。
Now, let me talk about Kannon. It is different from Buddha in Buddhism. Kannon is more down-to-earth and has a very compassionate existence close to us and our daily life.  She helps us in the way like Buddha does but she is more familiar and rooted in the life of the people in the past.
武蔵先生はまた、この書物を書いていくのだが、仏法や儒道の古き言葉を借りたり、軍記軍法の古き事例を用いたりはしない、と仰っています。この流派の見立てや真実の心を明らかにすること、天道と観世音を鏡として、と言う部分は、お高くとまった仏法や儒道ではなく、大きなる心と慈悲深い心で、万人に分かりやすく書くと言うことだと思われます。
As Musashi sensei progresses his writing, he says that he doesn't borrow Buddhist teachings, wise words of Confucius or good old Military records, strategy. I think the part that Musashi sensei mentions in his writings "to express clearly the authenticity and the true heart of Niten ichi-ryu by reflecting "Tendou" (Ten, 天) and "kanzeon"(Kannon) in yourself as a mirror" implies that he tried to write the book for the ordinary people to understand easily with his conscience and compassion like Otentousama and Kannon not by telling like Buddha or Confucius who stays in the height from ordinary people.
そして、日時を選んで、十月十日(太陽暦の十一月二十二日)の夜、寅の刻の一天(午前四時前)に筆を執って書き始められました。これも縁起を担ぐ、庶民的行動だと思います。
And then, Musashi sensei chose on the night of 10th October (22nd November in solar calendar), "Torano koku" just before 4am to start writing. This act is also like ordinary people wishing for good luck.
最初の部分で、岩戸山に登られたのは10月上旬と書かれ、執筆開始は十月十日と明記されていますから、祈願日と執筆開始日は別の日と考えられます。また、霊厳洞で書かれたと言うのも伝説と思われます。(武蔵先生は、霊厳洞で書いたとは一言も仰っていません。)
Earlier it is mentioned that Musashi sensei climbed Mt. Iwato in early October and here clearly said to start writing on 10th October. Thus, the dates of praying and the first day for writing are considered to be different. Also it is thought to be a myth that he wrote the scrolls in Reigando. (He never mentioned that he did in his writing.)