---
今回ご紹介します木刀ですが、實相圓満の木刀と申しまして武蔵先生によって作られたと言われております。私共、兵法二天一流の山東派では相伝の証として引き継がれて来たものです。
現在は大分県の宇佐神宮に管理保管されておりますので、一般の方は見ることが出来ません。
今回は加治屋宗家のご厚意で見せて頂くことが出来ました。
Today let me introduce this wooden sword called JISSOU ENMAN NO BOKUTOU, which is believed to be made by the honourable master Musashi Miyamoto.
This sword has been kept through many years as an evidence of succession here at Santou main line of HYOHO NITEN ICHIRYU. Currently it's kept at Usa shrine in Oita prefecture. Normally it's not open to public to see but I was lucky to see the sword through the kindness of Kajiya-soke (12th Head master Hyoho Niten Ichi Ryu).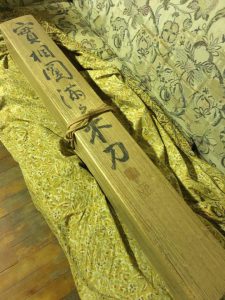 実相円満の兵法とは・・・この世の中そのままを円満に、すなわち六道輪廻のこの世界そのままをありがたくいただく、空ずる兵法だというのである。
小倉碑文の上部にも同じ言葉が刻まれています。
What is the strategy of JISSOU ENMAN? It is an art of war to perceive everything that exists in this world to be harmonious and peaceful, that is to accept and appreciate the life of ROKUDOURINNE※1 (Reincarnation in Buddhism) and to arrested in nothing.
The same words are engraved on the top part of Kokura Hibun inscription.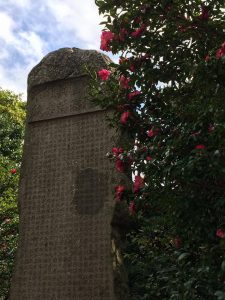 木刀が収められているこちらの木箱は八代宗家、青木先生によって作られたそうです。
箱の内部には武蔵先生より寺尾求馬助二代宗家へ木刀を引き継いできた経緯について書かれています。
This wooden box in which the sword is kept is  made by 8th soke, Aoki Kikuo Hisakatsu.  The story of how succeeded this sword to Terao Motomenosuke 2nd soke from Honourable master Musashi Miyamoto is written inside the box.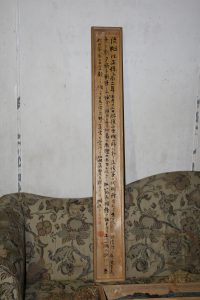 木刀には實相圓満之兵法と刻まれており、
JISSOU ENMAN NO HYOUHOU (The strategy of JISSOU ENMAN) is carved on the sword.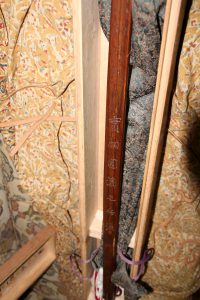 反対側には、寒流帯月澄如鏡と刻んであります。以前ご紹介致しました戦気の言葉ですね。
私はこの文字を見て鳥肌が立ちました。
On the other side, 寒流帯月澄如鏡 (Kanryu tsuki obite sumerukoto kagaminogotoshi) is carved, which describes a readiness for the 戦気(senki, Sho of Musashi sensei)
I got goose bumps, looking at these letters.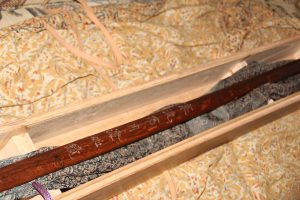 切先の部分は金具の様なものが被せられる形になっております。これは武蔵先生が晩年に杖として使っておられたからではないかと伝えられています。
The Kissaki( tip of the sword ) is cut into the shape to be able to insert something like a metal. It's believed that Musashi sensei used this as a walking stick later in his life.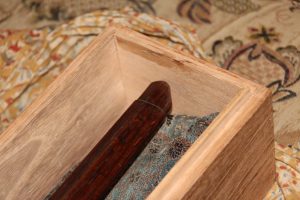 素材は赤樫で反りは殆ど無く、漆の様なコーティングが施されています。
私どもが通常稽古で使用している木刀と比べると少し長いのですが、六尺以上あった武蔵先生には丁度良かったのかもしれません。
The sword is made of Akagashi(Japanese evergreen oak )and there is no curve that much. It has a coating like Urushi(lacquer).
It is slightly longer than the bokutou which I usually use . However, it might be just for Musashi sensei had height more than 6shaku(180 cm).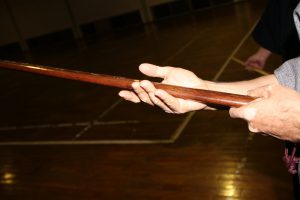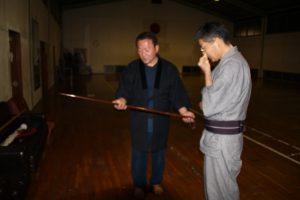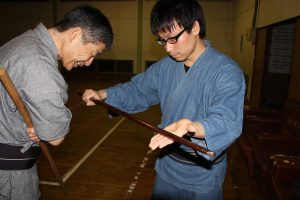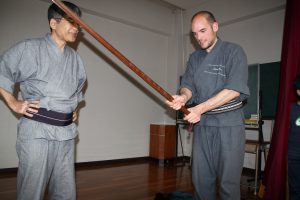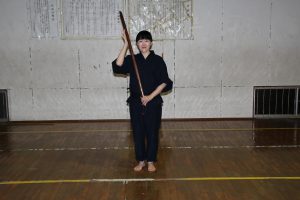 私も実際に手にさせて頂きました。
以前この木刀について400年も前の木刀が実在するのはおかしい、偽物だ。などと仰っていた方を思い出しましたが京都などの歴史的建造物は偽物ではありませんよね。
正直な感想を述べさせて頂きますと、インターネットで検索して見るこの木刀の印象とは違いやはり古いですし凹凸も沢山あります。そして驚くことに武蔵先生の手の形を感じる事が出来ます。
しっかりと握っておられた跡があるんです。構えた時には武蔵先生と自分が重なった様な不思議な感覚で魂が込められているのを感じる事が出来ます。
そして代々宗家や門下の者たちがこの木刀を大切に扱って来られたことも。
大変貴重な体験となりました。この木刀と共に永遠に二天一流が継承されていくことを願っています。
I held this sword myself.
I remember a person who has before said that a 400 – year- old sword cannot exist, it's a complete false. Then, how can old historical temples in Kyoto still exist now?
Speaking honestly, the actual sword looks much older, with many dents and scratches can be seen compared to the picture you see on the internet. Also to my surprise, I can feel the shape of a hand where Musashi sensei held it. There is a clear shape of a hand. When I held it to be ready, I had a strange feeling as if the Musashi sensei is with me and I could feel his soul in it.
Also I felt the passions of all the previous Sokes(masters)and their students who took care of this sword.
It was a wonderful and precious experience for me. I hope NITENICHIRYU will be succeeded forever with this sword.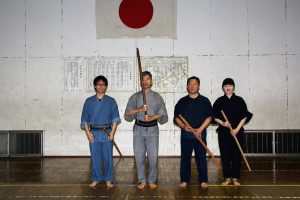 前田 典子 Noriko Maeda
※1  rokudourinne( Endless circle of transmigration in the six posthumous worlds)
1 地獄道 Hell dimension
2 餓鬼道 Hungry ghosts dimension
3 畜生道 Brute dimension
4 修羅道 Puegatory dimension
5 人間道 Human dimension
6 天道 God world dimension