こんにちは!加治屋です。
Hello, it's Kajiya !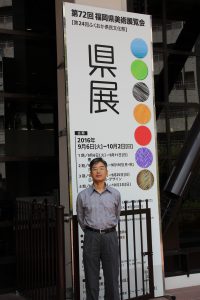 第72回福岡県美術展覧会(県展)に行ってきました。
私の、"篆刻"の作品が入選したからです。
I came back from the 72th Fukuoka prefecture Art exhibition. It's because one of my seal is shown there.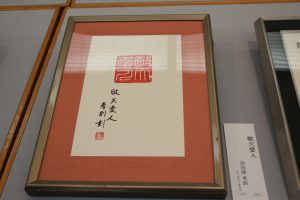 出品作は、これです。
四文字で、「敬天愛人」。
It's this one. There are four kanji [chinese ideograms / "SonTenAiJin" meaning "Revere heaven, love people"]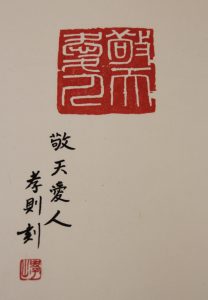 拡大すると、こんな感じです。文字部分を白く彫る"白文"と、反対に文字部分を残して彫る"朱文"がありますが、これは白文です。
By enlarging it, it gives this. There are two types of seals. The first one, you engrave the kanji, it's "hakubun" [white letters]; and the second one, you let the kanji "akabun" engraving all the rest [red letters]. Here, it's a hakubun.
孝則刻の下に捺してあるのは雅号印で、「学山」と彫ってあります。
これは、私が彫ったのではなく、篆刻の先生が彫ってくださったものです。
品があって好きです。
The little seal in the bottom is a pseudonym. It's not me who engraved this seal, but my teacher who did for me. I really like it.
雅号は、第2章「為政第二」の第15、「学て思わざれば則ち罔し、思いて学ばざれば則ち殆し」から来ています。孝則の「則」の文字を直接使うのではなく、このように「則」が関連して使われている「学」の字を用いています。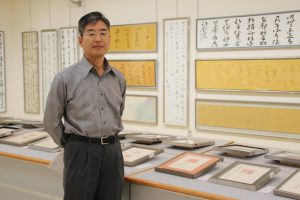 この写真は、展示の様子です。作品群から迫って来る迫力に圧倒されますね。
難しい言葉を彫ってある作品が多い中で、「百戦錬磨」というのがありました。
こういう武道に関連のある言葉に親しみが湧きます。
This is a picture of the exhibition. we are really overwhelmed by all these printed seals. In the middle of these, there was one : "hyaku-sen-ren-ma" [veteran built by many battles]. This kind of affection for words linked to Martial Arts appears.
[translation by JEQUEL Adrian]