こんにちは!加治屋です。
Bonjour c'est Kajiya !
Hello, it's Kajiya !
今日は、稽古着の作務衣についてお話したいと思います。
私たちは、剣道着や居合着ではなくて、作務衣に帯を締めて稽古します。
この習慣は、十代宗家今井先生の時からです。
Aujourd'hui j'aimerai vous parlez du Samue [prononcé samoué; ndt.] qui est porté lors de l'entrainement. Nous n'utilisons ni veste de kendo ni veste de Aikido, mais un Samue noué avec un obi. Cette habitude est apparue avec le 10ème Sôke, Imai-sensei.
Today, i would like to tell you about Samue which is worn during training. We do not use Kendo-gi nor Aikido-gi but a Samue tied with a obi. This habit started with the 10th great master Imai-sensei.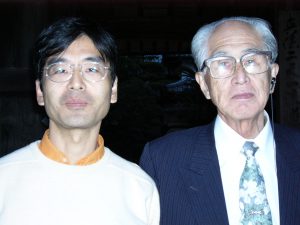 写真に写っているのは、今井先生と私です。
Sur cette photo, Imai-sensei et moi-même
On this picture, Imai-sensei and myself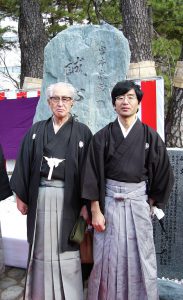 演武などのときは、紋付・袴で行います。
今井宗家は国士舘大学にて剣道をされていたので、剣道着になじみがあるはずなのですが、作務衣で稽古するのは次の理由に拠ります。
Lors des démonstrations [embu-taikai; ndt.] nous revetons un hakama et un kimono noir portant les symboles de la famille ["ka-mon"; ndt.].
Imai-soke a pratiqué le kendo à l'Université Kokushikan [à Tokyo; ndt.] donc il est attaché au dogi (veste) de Kendo, mais voici la raison pour laquelle il s'entrainait en Samue.
During demonstrations we wear a Hakama and a black kimono with family crest on it.
Imai-soke did Kendo at Kokushikan University in Tokyo. So he is attached to Kendo-gi, but there is the reason he trained wearing samue.
袴だと足の動きがよく見えないが、作務衣だと足の動きがよく見える、稽古には作務衣が良い。
それから私が、作務衣の上着の袖を2回折り返しているのは、そうするように今井宗家に言われたからです。足だけではなく、腕の動き・様子が稽古時によく見えるようにです。暑いからではありません。
先日、初めての人に作務衣で稽古する理由を話しているうちに、思い出しました。
Contrairement au Samue, en portant un Hakama, on ne voit pas bien les mouvements des jambes, donc le Samue est mieux pour l'entrainement. Ensuite, je plie 2fois les manches de la veste du Samue car Imai-soke me le demandait ainsi. Lors de l'entrainement il n'y a pas que les jambes qu'il faut bien voir, mais aussi les mouvements et l'état des bras. On ne porte donc pas un Samue à cause de la chaleur [le samue est un vetement frais porté durant l'été; ndt.] Je me suis souvenu l'autre jour, que l'on m'avait demandé pour la première fois pourquoi je portais un Samue lors d'un entrainement, voici ma réponse.
With hakama we are not able to see the legs' mouvement, whereas we can if wearing samue. So samue is better for training. Then I fold the jacket's arm twice because Imai-soke told me to do that. During training, you need to see arms to, not only the legs. It's not because it's hot.
Last day, a beginners asked me about the reason of wearing a Samue and i remembered that.
[sorry for the quality of the translation. I'm not a native english speaker. JEQUEL Adrian.]